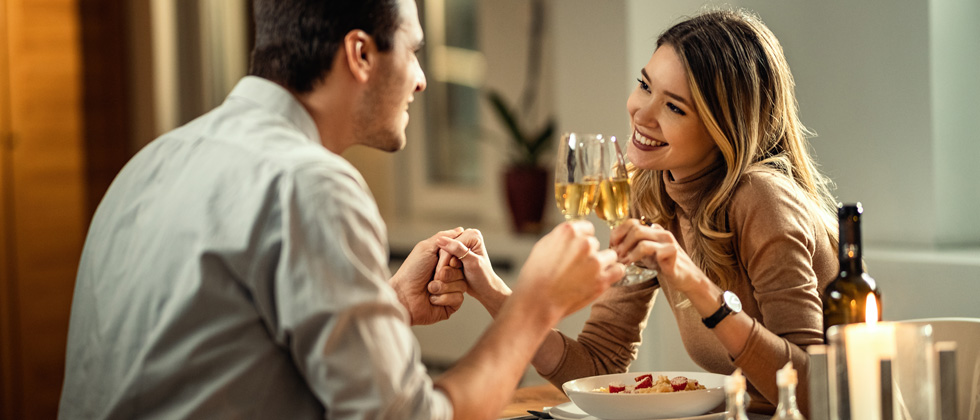 First Date: Tips and Tricks – How To Have A Fabulous One
Congratulations, you did it! You successfully asked out that cute person you met at the bar. Or said yes to being set up by your friends. Or took the leap from online to real-world dating. However you got here, the important thing is that you did, and now you're heading into that all-important first encounter, so here are some first date tips to make sure it goes well.
Why First Dates Are So Important
We live in a world that's getting faster by the minute, where first impressions count for more and more… including when it comes to dating. Which means your first date is an important step: it is the starting point to see each other in person for the first time and to get to know each other better. But don't worry; with these first date tips, you'll be well on your way to sweeping your date off his or her feet.
Before The First Date: 3 Tips
The key to a successful first date is preparation. Some first date advice for combating the wrong kind of butterflies:
1. Do Your Research
No, we don't mean stalk them on social media (not that you would, right?) But if your date mentions a love of classical music, spend a few minutes making sure you know the difference between Mozart and Metallica. It shows you're interested in them as a person and helps you ask intelligent first date questions.
2. Choose The Right First Date Location
Deciding what to do on a first date can be tricky. Unless you're sure of your date's preferences, it's best to pick a low-pressure, neutral location. A bar or coffee shop, for instance, works much better than dinner and a movie… that way, if you realise early on that you don't click, it's easy to extricate yourself. Of course, if you do, you can always order another round.
3. Nail That First Impression
I know, I know, don't judge a book by its cover… but most of us still do. Which is why it's important to dress up and find a first date outfit in which you feel comfortable – it lets your date know you value them enough to put in the effort.
4. Safety First, Ladies
Bear in mind the importance of your own safety and be prepared. Make sure that someone knows where and with whom you're going and arrange to have a girlfriend call or text so you have an excuse to bail if things aren't going well.
During The First Date: 6 Tips
You're at the coffee shop / bar / restaurant and so is your date. Here's some advice to keep your first date going well:
1. Let It Go
Apologies for the earworm, but it's important to let any preconceived notions about your date based on their profiles go. Keep an open mind and you might be pleasantly surprised!
2. Be Present
We don't have to say it, do we? Leave your phone in your bag or pocket, or at least on the table, and give your full attention to your date. And unless it's life-or-death, resist the temptation to pick it up.
3. Mind Your (Body) Language
Even if you don't say a word, how you position yourself can send a clear message. Point your body towards them, and keep a smile on your face and your body posture open – it'll make your date feel much more comfortable with you in return.
4. Manners Make the Man
Gentlemen, this one's for you. Even in 2020, old-fashioned manners – holding doors, pulling out chairs, elbows off the table – have their place, especially when on a date. Don't take it to an extreme, but do make it a point to act gentlemanly when the situation calls for it.
5. Be Interesting By Being Interested
It's a networking tip that's just as applicable on a first date: ask questions, and really listen to the answers. Follow up. The best way to make someone think you care about them is to pay attention.
6. Be Yourself
Yes, one of the first date rules is impressing your date… but after a point, keeping up a charade isn't just exhausting, it's very likely to come back and bite you. The person you're meant to be with will be interested in you for you, not who you pretend to be.
After The First Date: 3 Tips
You met personally… and with any luck, signs show it was a good first date. Here are our tips for how to follow up on a first date, whether good, bad, or something in between.
1. Decide whether you want a second date
Sometimes things don't work out, and that's okay! It's not a judgement on you as a person, and you shouldn't let it get you down. There's always next time. Just don't ghost the other person and it's all good.
2. Follow up, but don't stress the details
Send a follow-up text at some point, maybe the day after. Keep it simple and relaxed – maybe reference something they said, if you're feeling daring. Or fulfil any promises you made on the date, like a book or movie recommendation. It's a great excuse to continue the conversation.
3. Leave the ball in their court
Follow up once, and let them make the next move. They might be busy, or they just might not be that into you… either way, a flurry of text messages isn't going to help your case. Let them respond as and when they can, and in the mean time, there's plenty of other first dates to go on.
Looking for specific Dating Tips?
First Dates Are An Adventure Waiting To Happen
Dating, especially first dates, can be scary. But with the right mindset and our first date tips they can also be a lot of fun. With a little prep work before, being present during, and proper follow-up after, you're sure to get the most out of any date you go on. And if it doesn't lead to a second… there's always eharmony!
How it works
Your search for a great relationship has never been easier with groundbreaking overhaul of the eharmony you know and trust.