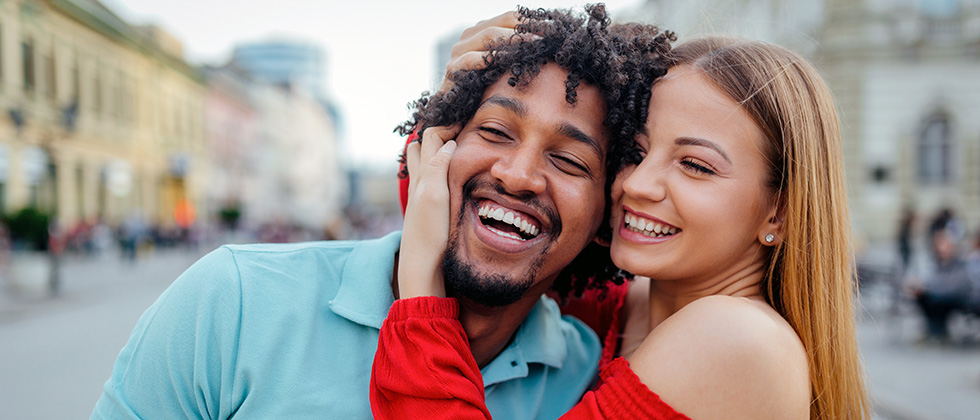 Never Been in a Relationship? Here's How to Change That
If you've never had a long-term partner, you may worry that you're just not cut out for relationships. But it's quite common and you're not alone. Roughly 11% of adults – roughly 28.4 million – have never been in a relationship, according to research1.
Many choose to be single because they're too busy to date or perfectly happy on their own. But if you've never had a boyfriend, girlfriend or partner and want to explore that side of life, we've got some tips and insights to help you along the way. 
Some useful tips if you've never been in a relationship and want to meet someone
When you've been single all your life, it can be easy to adopt the attitude that it's never going to happen. This mindset is often half the battle for people who have never been in a relationship. Here are some tips to consider:
Confidence – You have to learn to love yourself or no one else will. Don't indulge in negative thought patterns and take stock of the positive things you could bring to a relationship
Identify your obstacles – 'Why am I still single?' What's holding you back? Can they be changed or are they immovable?
Forget age – A lot of people worry about being too old to find someone. Even if you've never been in a relationship at 40, there are plenty of single people in every age group and more near you than you think
Don't get frustrated – It's easy to get frustrated with dating if you don't see quick results. But being single and frustrated is a poor combination for getting out of your situation
Have no regrets – If you try something out of your comfort zone, like asking someone out, don't be discouraged if it doesn't work out
Take things slowly – If you have never been in a relationship, when you do meet someone, remember to take it at a mutually comfortable pace. Whatever you do, don't rush
Learn to accept rejection – 'No' isn't the end of the world, nor is one person ever representative of the whole dating pool. Rejection is just a part of dating life
Work on your social life – Regularly meeting up with friends is a good excuse to also meet with singles while you're out
Ask your friends – They likely know other singles and are in a good position to play matchmaker
Explore dating apps and sites – If you have zero dating experience, this is a convenient and effective way to connect directly with like-minded singles
Give people a chance – Your expectations may perhaps be too high and you're letting good social and dating opportunities pass you by
Don't let poor experiences sap your motivation – Dating has its bad moments but that just means you haven't met the right person yet
Now let's take a look at another side of the situation and what to expect from a first-time relationship.
Dating dynamics with someone who has never had a relationship
Having no relationship experience doesn't indicate any kind of deficiency, but it may be that someone you meet is doing all of this for the first time. Or it could be they have no lack of dating experience but have just never been with someone for very long.
Things to consider when dating someone who has never been in a relationship
Communication will be very important. Be direct and clear with them when they mess up or cross a boundary
At the same time, they may require more patience and forgiveness than your previous relationships
They may be inexperienced with intimacy so don't be afraid to make the first move
Don't be scared off by their enthusiasm. Someone who has never had a girlfriend or boyfriend likely hasn't developed a filter for their emotions and these new feelings will be confusing. They need time to learn relationship skills
You will likely have to lead the relationship at first. But don't let this feed your ego and believe you're always the authority on any relationship issue
They will likely be plagued by self-doubt. Try to be supportive and communicative rather than feed their insecurities
Things you should know when you do meet someone
Don't be afraid to talk about your feelings but try to filter things that might be inappropriate or overly needy
Try to be proactive about romantic gestures
Don't rush in. If you have never been in a relationship, it's hard to judge if you're scaring them off, being obsessive or crossing boundaries
Learn to be vulnerable and accept criticism. If they have more relationship experience, try to learn from them
People with no dating experience can be possessive and jealous sometimes. Learn to trust your partner and communicate in a healthy way
Keep your expectations realistic and grounded
The rest you'll have to learn as your relationship grows and you discover more about each other.
It's never too late to find love
Regardless of what has been getting in your way, whether it's prioritizing your career, self-esteem issues or just that your dating efforts never really worked out, it's never too late to change. Just make it your goal and explore ways to achieve it.
If you have never been in a relationship, try eharmony. We specifically focus on relationship-seekers and can actively connect you with singles based on your mutual compatibility, leading to successful and authentic dates. Sign up now.
How it works
Your search for a great relationship has never been easier with groundbreaking overhaul of the eharmony you know and trust.