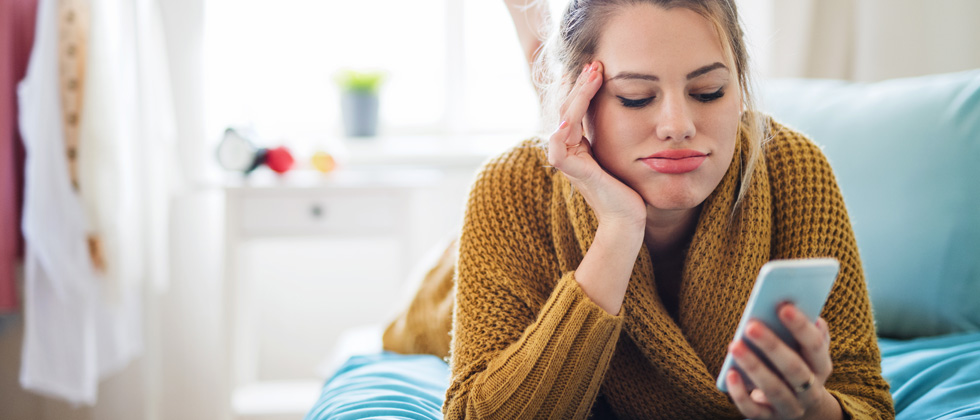 How to Stop Being Frustrated with Dating and Modern Romance
Ever felt like you've had enough? Being frustrated with dating is a normal response when it seems like you should be able to change something but just can't. The problem is, even though your frustration is valid, it doesn't help you fix the situation. In fact, it becomes an active obstacle to it. Professional relationship coach Rachel Dack encourages her clients to consider various aspects of their approach to dating when they feel overwhelmed by the frustration of being single. We explore some questions to ask yourself from her as well as some tips from clinical psychologist and relationship expert, Dr Seth Meyers, which can help you reevaluate your situation.       
5 questions to consider when you're single and frustrated
Answer these questions devised by Rachel Dack honestly and you may be surprised at the insights you gain.
1. Are you dwelling on the past?
Be it toxic past relationships or just age-old heartbreak, we've all got relationship baggage which can lead to being frustrated with dating. These traumas can be tough to wade through, often taking time and support to overcome.
But even after we feel healed, the effects of these experiences reach forward into our current dating lives, affecting how we see ourselves and how we treat others. As Rachel says, "When the past is still the present, it has power over you and interferes with your ability to love."
It's important to focus on the growth you've made since and to put conscious work into shaking loose your bitterness over the past.
2. Are you too desperate?
Don't ever place your entire self-worth into being in a relationship. Desperation is often obvious and unattractive to potential partners, bringing a needy energy and distorting the natural process of relationship-building, making you even more frustrated with dating.
Desperation also will often make people overly sensitive to a perceived lack of reciprocation in feelings and effort. Rachel says: "The key is to go after what you want and be confident in achieving it, as opposed to making your entire existence about finding a relationship."
3. Are you putting effort into your dating life?
Too many people think their ideal partner will just fall in their lap. Finding love and building a healthy relationship takes time and effort.
For instance, If you're feeling frustrated with online dating but aren't logging in regularly, engaging with people and actively finding dates then you're the architect of your own frustration. "Look for spaces in your life to go after your relationship goals and take risks for love." is Rachel's advice. Say yes when friends try to set you up, focus less on solo activities and generally stay proactive about finding love.
4. Are you unnecessarily comparing yourself to others?
Everyone has their own dating journey and it's a waste of energy comparing yours to someone else's. We can all be guilty of this when it comes to exes and their subsequent relationships. Jealousy and life-comparing are natural but also sap your time and energy, distracting you from your own priorities.
Your energy should rather be directed towards working on yourself and your dating life. As Rachel says: "When in comparison mode, you are likely to take on a victim mindset, a self-defeating internal dialogue and experience more sadness and anxiety."
5. Have you become bitter?
It's understandable to occasionally be frustrated with the dating scene. But focusing on these frustrations and letting them ferment into bitterness will just prevent you from healing or finding the right person for you.
Ask yourself, do you assume ill-intent from strangers? Do you behave cynically or defensively on dates? Do you feel anger and resentment towards singles and the dating scene as a whole?
Bitterness can be destructive as it leads you to expect negative dating experiences, providing further kindling for your dating frustration.
How to overcome anger and resentment when frustrated with dating
If you've been dating for a while and feel like you don't have much to show for it, it can be easy to feel anger and resentment. But that won't help you find a healthy relationship.
Here are some methods and tips for dealing with this, from psychologist Dr Seth Meyers. 
Articulate what you want
To avoid being frustrated with dating, it's important to know what you're looking for before you start.
Here are some useful questions to ask yourself:
Are you looking for something casual or serious?
Are you putting in too much or too little effort?
Are you adequately communicating your interest to others?
Are you taking the initiative after successful dates?
How much work do you put into potential connections?
You also need a clear picture of the type of person you're looking for. Ask yourself if you're being too firm or flexible in your dating standards and whether you've applied them to your past relationships. As Dr Seth says: "Men and women become bitter when they've lost sight of the bigger picture."
As an exercise, you could come up with a list of traits you're looking for in a partner and see whether any of your dates in the past three months have met these criteria. If not, you may need to take a deeper look at where you're going wrong.
Ask your friends for their perspective
Your friends know the most about you and can be a good source of insights when you're single and frustrated. Ask them how they see your dating life and what they think you could do differently.
While it can be difficult to be vulnerable with your friends, particularly for men, try to approach their advice with an open mind. While you don't have to fully take their opinion on board, don't let defensiveness get in the way of learning something constructive. Dr Seth says: "Sit with it for a day or two, and odds are that you will see that there is wisdom in the feedback."
Try a social scene
You can get stuck socializing in the same circles and encountering the same dating opportunities, which can lead to frustration. "When you get bitter in dating, it's time to change your literal point of view," says Dr Seth.
For instance, if you're frustrated with online dating, it may be time to explore different apps and services. You should also try novel social experiences like going to different bars and restaurants, and exploring new activities – like sports, festivals or concerts – which expand your social horizons and let you meet different people.
Find methods of self-soothing
Often, when we get frustrated with dating and fall into a cycle of negative thinking, all we need is time and some comforting distractions to feel better. As Dr Seth says: "Sooner or later, we all hit a point where our emotional gas tank is running low, but the extent to which we seek out healthy, self-soothing mechanisms determines how quickly and effectively we can break out of a bitter funk."
Here are some to explore:
Take a bath
Curl up with a good book
Watch your favorite movie
Host a get-together for your closest friends
Get a massage
Externalize your feelings in a journal
Play with a pet
While these may seem simple pleasures, they can help you take a step back, take a beat and appreciate the positive aspects of your life.
How it works
Your search for a great relationship has never been easier with groundbreaking overhaul of the eharmony you know and trust.