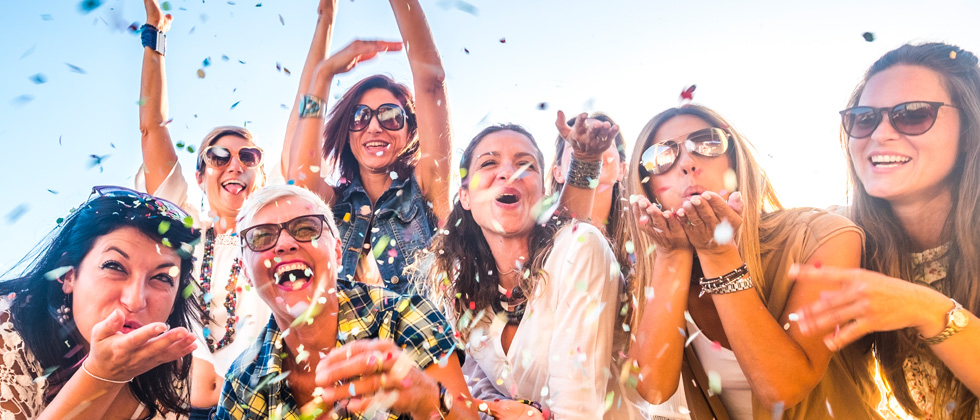 'What Do You Do For Fun?' No, Really! What Do You Do?
Have you ever given your dates a blank stare when they asked, "What do you do for fun?" Yes, it sounds like the simplest of questions, but it can be the one of the most stressful to answer.
Maybe you think back to what you did last Sunday, and you come up with this list: Snacking. Napping. Surfing Facebook. "You can't tell your date that!" you scold yourself. "You're supposed to be doing something interesting!"
Maybe your dates would appreciate your honesty because that's secretly what they like to do for fun, too. And they're exhausted breaking out their own list of stand up paddle boarding, hot yoga, and making their own herbal-infused olive oils.
Alas, you've got to get through an entire date, so you need to come up with a handy answer. Don't make the mistake of dissing the question by saying "Oh, I don't know!" as you play with your straw wrapper. "I guess what most people do: I like to go out for brunch, maybe go to the movies." That won't endear you to anyone.
You can do better! It helps to think about why your dates are asking that question. They're not looking for a quick list. They're looking for nuggets to anchor a conversation. They're looking to find commonalities to establish a connection.
They're also using the question to say something about themselves: They're not all about work, errands, and doing laundry.
Here are a few tips on how to seem like an expert in having fun:
1) Find the big themes
You don't just love boating, surfing, and tubing. You love being out on the water. Start with the big picture to give your date a chance to say, "Me too!" Then you can talk about what kinds of specific activities you enjoy – and might enjoy together some day.
It helps to talk about those interests that appeal to a wide range of people so your date can imagine sharing them with you. For example, it's impressive to brag that you do triathlons. Just make sure you add that you like to go on long runs in the park on Saturday mornings and would always welcome a running (or even dog-walking) partner.
2) Sprinkle in some feelings
Why do you like the water? Do you crave the feel of the sun on your face as you bob on the waves? Do you get so focused on stand up paddle boarding that you forget your cares?
Don't just say "I like to go to the gym." Tell your date that you love the classic rock music the instructor plays at spin class on Friday mornings – or that you feel proud of yourself after reaching the next weight level on the bicep curl machine.
Are you a grill master of St. Louis-style ribs? Maybe you can expand on how you love experimenting with different spices and testing out a new recipe. Maybe it feels great when your kids brag about your ribs to their friends.
Your date might not be able to relate to your activity, but they'll probably be able to connect to your emotions behind it. Besides, you just sound fun to be around.
3) Make it a story
Explain how you became interested in collecting vintage campaign buttons. Did your grandfather take you with him to the county fair every summer and you just got hooked?
Worried that your SCUBA diving stories might turn off dates who assume the skill level and cost make the hobby out of reach for them? Don't leave out the details of how you found a great deal on a class at a community college and practiced in the pool for months before you found a Groupon for a local dive shop.
Or maybe you had to break your leg and bank account learning how to downhill ski before you became obsessed with it. Whatever the case, share your enthusiasm.
4) Think about your entire life
The reason this question stumps even the most fascinating people is because we tend to think about categories of hobbies or sports. Don't forget every kind of activity, whether it's watching reruns of 1970s game shows or trying every soft serve flavor within 20 miles of your home. Everyone relates to simple pleasures.
And so what if you nap for fun? Own it! Tell your date that there's no better feeling than swinging in your hammock on a Sunday afternoon after a hard work week and closing your eyes for a delicious half-hour.
5) Talk about what you'd like to do
Worried your fun resume is on the short side? Talking about future intentions is a great tactic to get people excited about doing fun things with you. You love old movies and want to check out more foreign film festivals. You like cooking and want to explore more farmers' markets. You're a lifelong baseball fan and want to visit every ballpark in the country before you die.
So what do you do for fun? Everything! Don't miss this chance to show how you're an interesting person and most importantly, why you're worth getting to know better.
How it works
Your search for a great relationship has never been easier with groundbreaking overhaul of the eharmony you know and trust.