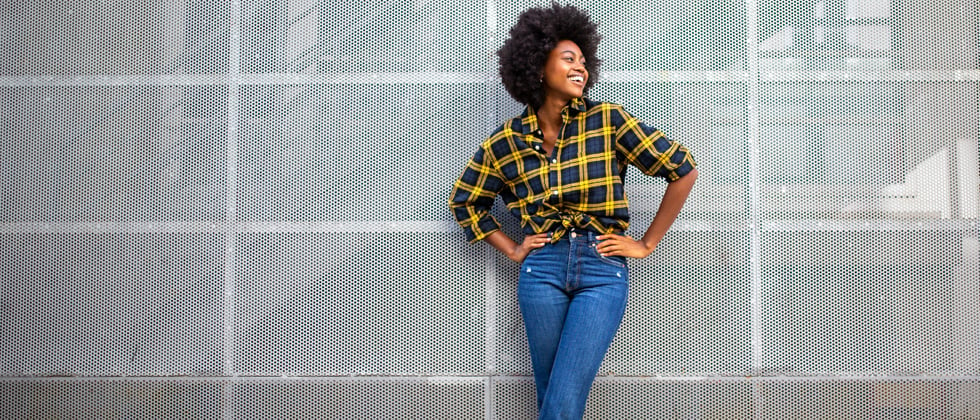 Giving Voice to Your Unique Feminine Energy
Feminine energy means a lot of different things and can differ a lot depending on your personality and the society you live in. It shouldn't be confused with gender roles or what is "expected" from you as a woman, nor is it unique to women.
Yes, these traits can include being nurturing, caring, compassionate and receptive, in contrast to more masculine traits of assertiveness and being action-oriented but there are no real borders. Everyone contains a mixture of feminine and masculine energy1, regardless of gender.
Feminine energy and its meaning is more about your emotional response to situations and dynamics within relationships. It's about whether you're comfortable in your own skin and a have deeper perspective on why you are how you are.
Feminine energy and its role in society
It's no secret that feminine energy has been undervalued by society and often hugely misunderstood. It has often led to gender roles that have put women into definitive and limiting boxes.
Femininity is too often associated with sexuality and frailty. The gender divisions this misapprehension has created are not only unwarranted but misguided. This has led to gender and pay gaps in the business world, unfair treatment of women in society and a disturbing power imbalance in romantic relationships, where men often assume a leading and sometimes stifling role.
Feminine energy and its meaning is more about accepting and embracing the distinct aspects that make you a rounded human being and, in fact, seeing them for the advantages they offer both to you and in your relationships.
Embracing feminine energy as a life skill
First of all, forget feminine energy as a counterpoint to masculine energy. They are indeed related but, depending on your sexuality or views on gender in general, you may not be fully aware of how your femininity meshes with masculinity.
Having increased compassion for people or being more attuned with your emotions and of those around you doesn't just help your dating life, it also lets you more healthily engage with the world and your own desires. It gives you a clearer window into yourself and, often, the things in your life that may be holding you back.
Feminine energy is essentially a life skill that you can channel into dating and finding healthy relationships. But its chief value is bringing yourself contentment.
Exploring the aspects of feminine energy
Many novels explore feminine energy and its meaning, and how you can harness it to create greater fulfillment in your own life. Examples are Women Who Run with the Wolves by Clarissa Pinkola Estesor, The Feminine Mystique by Betty Friedan and the internationally revered The Bell Jar by Sylvia Plath.
While it's difficult to summarise all the lessons of engaging with your feminine energy, here are some of the clearest advantages.
Benefits of tapping into your feminine energy:
Agency – You don't focus on an ideal relationship, but rather on what brings you joy and the kind of partners who can meet those needs. In essence, you stop living for others and begin looking inwards, creating a better mindset for dating through enhanced self-knowledge
Creativity – There are many aspects of femininity that are conducive to good creative flow, such as trusting your intuition, being more aware of the world around you and, most importantly, a respect for yourself and your limits2.
Collaboration – Harvard Business Review has found that women tend to carry the most responsibility in collaborative environments3. This is a double-edged sword. While women can be less hierarchal and pettily competitive, they also receive less recognition. But this is when it's time to embrace your masculine energy too and let your voice be heard not only in the collaboration but when it's time to claim credit for your achievements
Intuition – People with strong feminine energy are more emotionally attuned to the world around them. This can give you a leg up in most social situations, taking the temperature of a conversation and knowing what to focus on in interactions
Presence – Femininity is often about being fully in the moment, rather than living in your head. For any men trying to know how to increase my feminine energy, try actively listening instead of letting your thoughts wander
Now let's look at some ways to better embrace your feminine energy.
How to increase my feminine energy: Building your unique brand
Let's look at some practical tips that can not only help you tap into that vital feminine energy but also help you feel like a more well-rounded person in general.
Meditation – Meditation is a great tool regardless of gender or identity because it allows us to get in touch with our primary energy. If that energy is feminine, it allows you to reflect and explore other aspects of your life your feminine energy can have a positive impact on
Self-care -For some, it's as simple as making a cup of tea or going on a forest walk. Self-care doing the things that bring you joy, whatever shape that takes. It helps you sort through issues in your mind and pick up on the stuff that really doesn't deserve your mental energy
Create a safe space – This is where you rest and recharge. Whether it's just a bath every day after work or that little break you take to read in your favorite nook, make this space your own and don't let anyone intrude. This includes your children and even phone notifications. This is a space (both mental and physical) where only you and your reflections are allowed
Have an outlet – Creativity is something we all share. You may not be the next Frida Kahlo but try to find a medium you enjoy and explore it, regardless of results. It's less about the outcome than the process of creating. It doesn't need to be artistic either. But do something that engages your intellect and emotions, and your feminine energy and the meaning will follow
Explore different activities and be open to new experiences, and you will gain greater insight into feminine energy and the power it holds not just for dating but your whole being.
Your own journey is half the experience
By embracing your intuition, empathy and sensitivity, you will not only tap into deeper aspects of your feminine energy and build stronger relationships, but also have a greater idea of where you stand in the world and what kinds of energy you need in your life. Find deeper connections with someone who gets your energy without compromising your femininity. Try eharmony today.
How it works
Your search for a great relationship has never been easier with groundbreaking overhaul of the eharmony you know and trust.