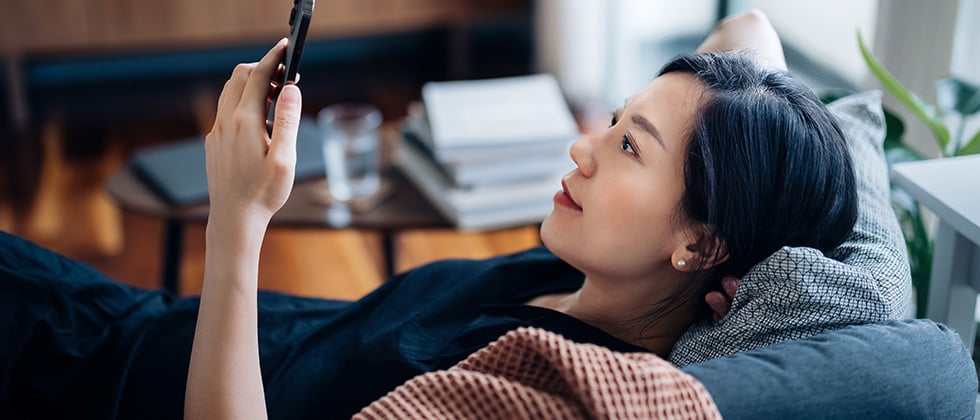 Make Your Dating Profile Work for You
A good dating profile is the cornerstone of your online dating efforts. It's that first impression that gets people interested. But it can be difficult sometimes to figure out what photos express who you are and what essential aspects of your life to include in your dating profile bio.
Are you searching for helpful tips, so that your dating profile stands out and makes people take notice? We explore some ways you polish it up and make it more engaging while still being suitably representative of the real you.
Aspects of dating profiles you need to know
Dating profiles tend to have a range of sections that can help guide you on what are good details of your life to share, such as your hobbies, occupation, religion and workout habits, for instance. These are good for establishing an initial connection, as either of you may be looking for someone who shares their religion or has similar goals in a relationship, such as having children.
Your dating profile is also a chance for some creativity and to share deeper aspects of your personality. Answering the questions section in your eharmony profile, like 'My greatest travel story is…' is a good way to achieve this as it also provides a good starting point for your counterpart to write a first message to you.
Other things that can help paint a more three-dimensional picture of you beyond your photos are the Entertainment section, where you can share your favorite music and movies. Or you can elaborate more on your travel habits and the kinds of foods you enjoy. These all serve to give people an idea of what it would be like to date you and be part of your life, on the side of the interaction.
Now let's look at some of the things you should have on your profile and the kind of content to avoid.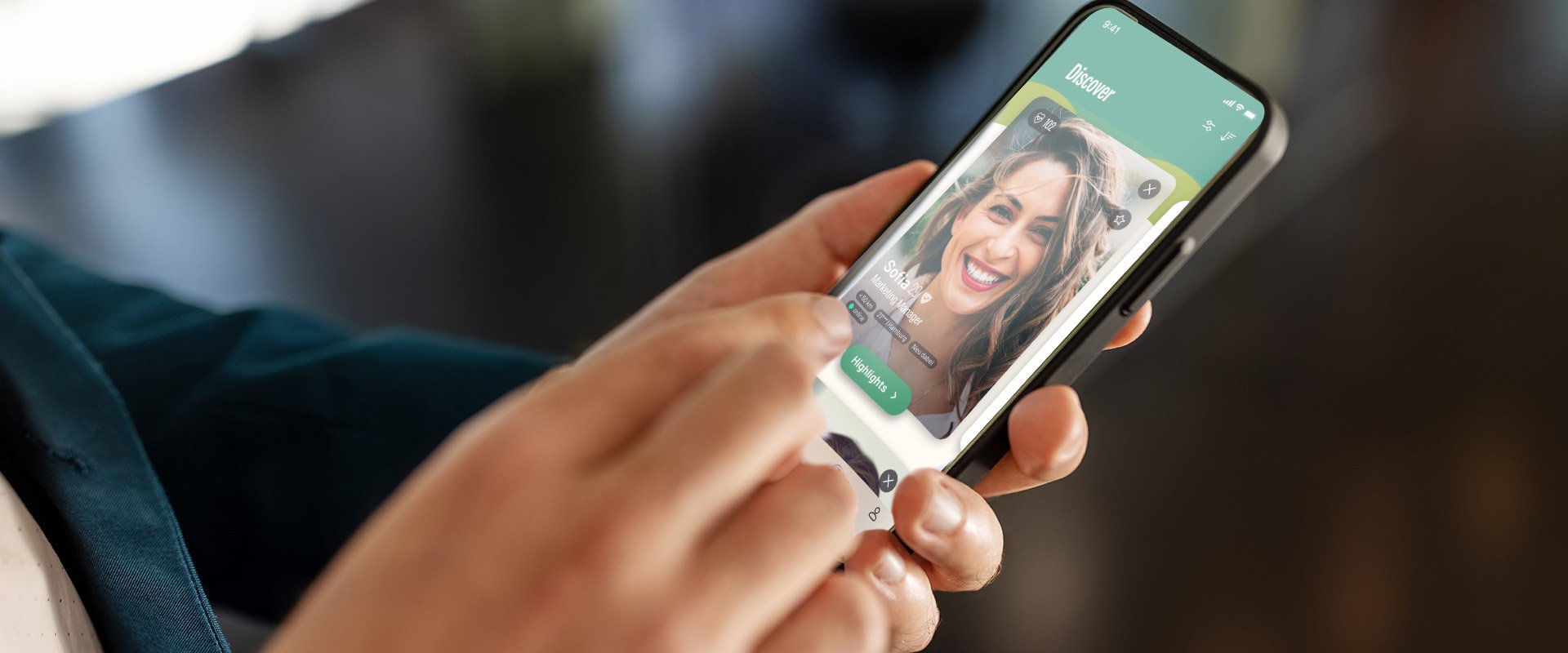 Dos and don'ts of your dating profile
Let's take a look at some basic dos and don'ts on your profile that can often hinder your online efforts or make it harder for people to connect with you:
Don't make your dating profile too light on information. Sometimes mystery isn't alluring.
Do use photos that show off your best side but still an honest side of you. Using old photos or overindulging in filters will only lead to your date feeling lied to.
Don't be sarcastic or negative on your profile. It's always best to stick with sincerity and openness to get people interested.
Do make sure to double-check your profile for any spelling or grammar errors. These can indicate you're not that invested in the process.
Don't skip answers in the dating profile questions section just because you can't come up with a clever answer. People want to get to know the real you so don't feel pressured to always be engaging in every aspect of your profile.
Do take the opportunity to be adventurous. You want your profile to share the hidden aspects that make you special so now isn't the time to be shy. Share as much as you can about yourself and the inner you without getting too wordy.
Picking the right dating profile pictures
This part can often trip up a lot of people as they put their dating profile together. While you may be tempted to use some of your favorite photographs of you over the years, it's always best to go with authenticity in your profile. Have a friend or someone help you take some more recent photographs (too many selfies can be risky) and then you can pepper in some more dated ones that you like of yourself.
Make sure your dating profile pictures are well-lit and taken at good angles. For instance, low-angle shots tend to shorten your features a bit. It's also a good idea to avoid group shots or unclear photos of you. People often scroll through a few profiles a day and you don't want them skipping yours just because they can't quickly get a good idea of what you look like.
Remember to also get shots that show off your lifestyle, not just your looks. Include photos of you doing your favorite activities and interacting with the world so that potential singles can get a fuller idea of your daily life and passions. These will also help bolster your interest and hobbies section, so it doesn't seem like you're just padding your profile.
Dating profile tips to help you shine
Here are some of our profile tips to help catch people's attenti0on and the conversation started:
According to a recent eharmony user survey, not sharing enough information about who you are was a top annoyance among members1 . So, make sure you take the time to fill out empty sections
Make sure your dating profile isn't too generic. You want it to stand out so make sure to include some elements that do, like an insight into your unique quirks. Don't just say 'I like to have fun.', share what fun looks like to you.
Don't over-filter your pictures as this can be quite noticeable and was the second top annoyance to members in the same survey at 47%.
Try not to exaggerate and create an idealized version of yourself online. You obviously want to attract people but don't set up unrealistic expectations just to get people to engage with you.
Don't be picky in your bio section about the people you're looking for, such as saying you only date people of a certain height as this can come off as arrogant. You're allowed to have your standards, but perhaps don't make it your initial introduction to people.
Now let's take a look at eharmony profiles specifically and how to craft them.
Tips & examples for the different dating profile sections
When it comes to an eharmony profile, we've designed them to create a snappy, succinct yet fully expressive picture of you. Here are some dating profile examples for the various sections we offer and how to translate the real you onto your profile.
Fact file
This is standard, straightforward biographic information on you. The best practice here is to be as honest as possible. You can decide to omit some things that you're not comfortable sharing just yet – such as your desire for children – but know that not addressing it could be a turn off for some people.
Introduce yourself
Dating profile headlines are a very crucial element to your profile, as it's the second thing people will look at after your profile picture. So, make it brief but distinct.
An dating profile headline example could be:
'I like to spend my weekends in the outdoors and my weekdays looking for hidden treasures in my city so message me if you've got any good leads on macaroons or just want to chat.'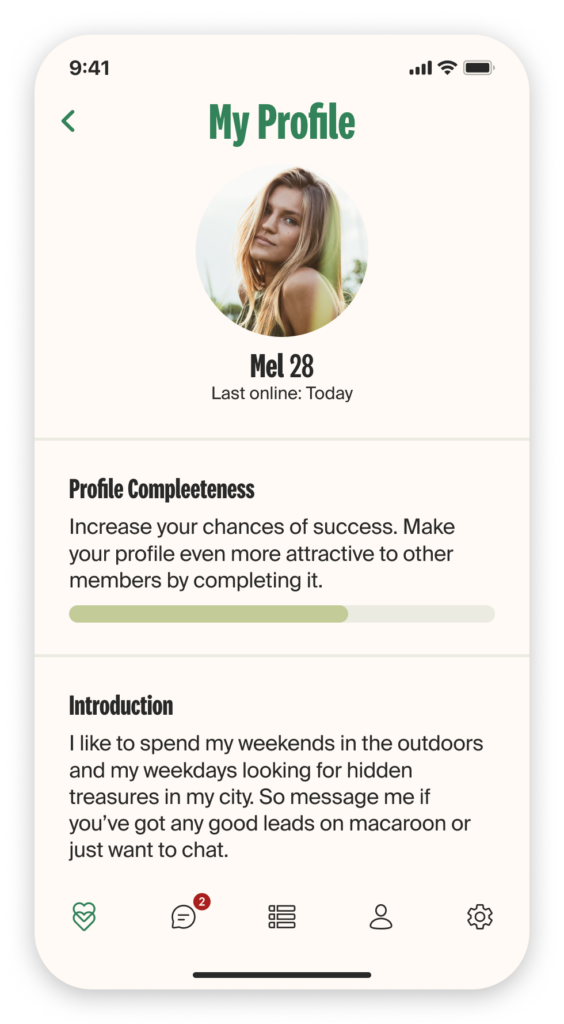 Hobbies and interests and other sections
People often sometimes overlook the Food and Drink, Traveling, Character and Traits, Sports, Interests and Hobbies sections or don't fill them out adequately. However, eharmony uses this dating profile information to give you quick insights into what commonalities you share with your matches and what links you.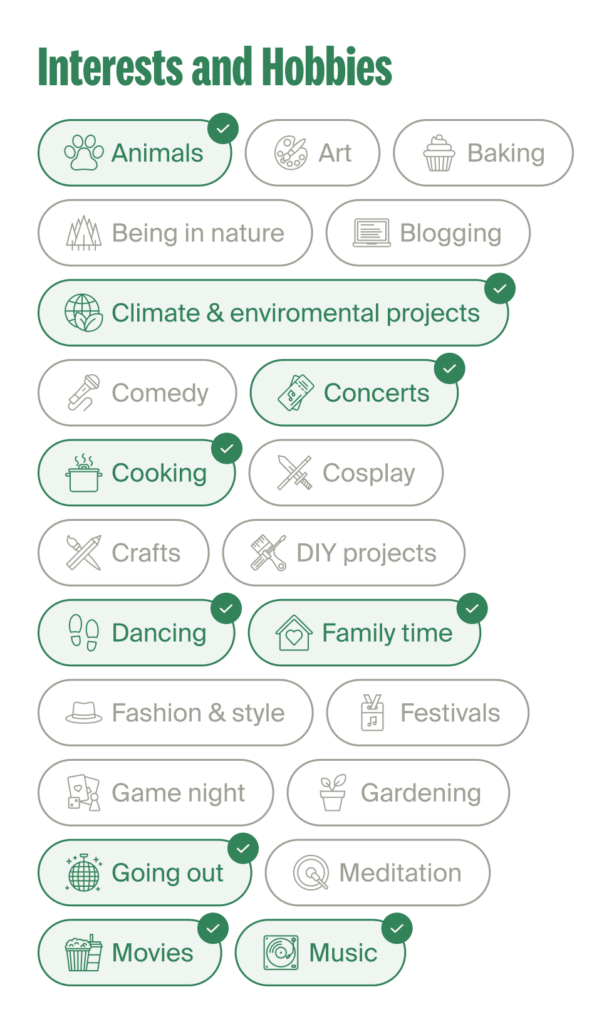 Entertainment
This section lets you share your favorite things in media, like your favorite song, band, TV shows and movie. These facts can help get the conversation started and give you an idea of your possible chemistry.
About me
The 'about me' sections on a dating profile are your chance to flesh out what it is that makes you special. We've structured ours in an engaging question-answer format so it's not too text heavy. Members can also directly interact with these answers by complimenting them, expanding on our platform's ability to create connections in more ways than just text.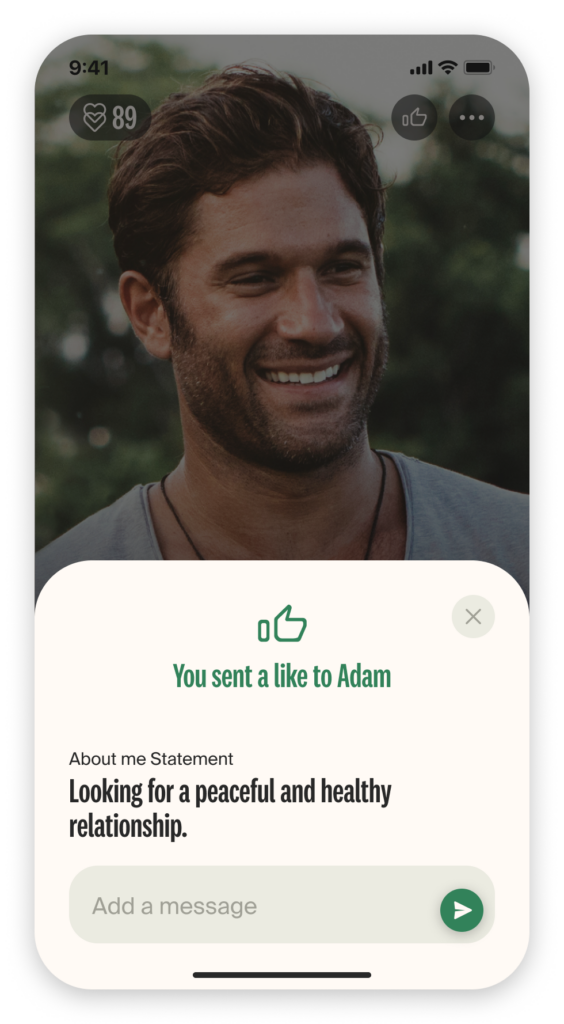 Make sure your dating profile is attracting the right singles
There are instances where your dating profile might be actively attracting the wrong kind of singles. We tend to want to make our profile as engaging as possible to attract attention but you should also see it as a natural filter for unsuitable singles so you don't have to waste yours and their time.
For instance, don't leave out the fact that you have children as that can be a dealbreaker for some, so why bother exploring your connection? Withholding your vices such as a smoking habit or being a frequent drinker can also but the other person will feel deceived if they discover these aspects of your lifestyle later in the relationship.
So being honest is not just online dating etiquette, it's also just the most sensible practice for fostering enduring connections.
Let your dating profile tell your story
Online dating should always be a fun experience. It's not a test to see if you're good enough for someone else but rather just another exciting platform in which to meet people. So make sure you tell your story fully and sincerely. Take the time to fill out those blank sections in your dating profile, work with different photos until you find what works, and test out more engaging headlines. Essentially, you need to put in the effort you hope to get out of online dating.
eharmony makes this process as hassle-free as possible by having richly detailed profiles that are still light on text. Our Compatibility Quiz also helps fill out sections of your profile automatically. So why not set one up today and see who's out there and right for you?
How it works
Your search for a great relationship has never been easier with groundbreaking overhaul of the eharmony you know and trust.