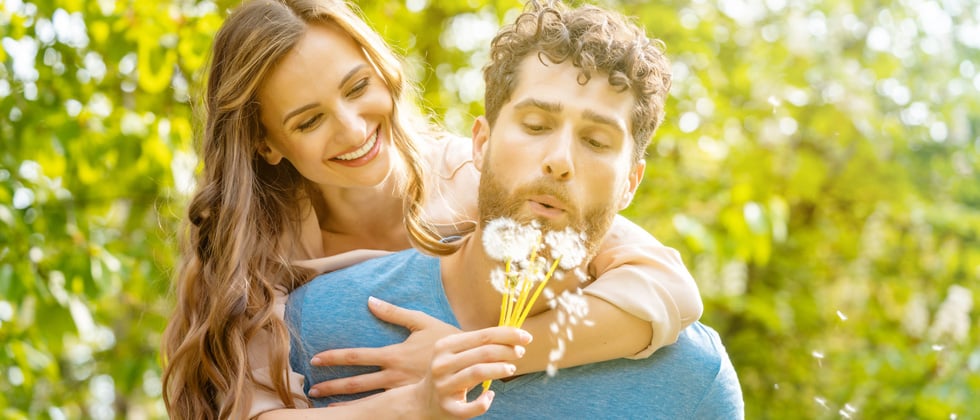 Courting vs Dating: The vintage way of finding happily ever after
It sounds like something from a historical novel, but courting is alive and well even in the age of online dating, especially as people get sick of the dating app rat race. Let's look at what courting is, its history and courting vs dating. We'll also look at why you should consider a courtship the next time you meet someone you're serious about.
What is courting?
According to the dictionary, a courtship is the 'act, period, or art of seeking the love of someone with intent to marry'1. When it comes to courting vs dating, one of the major things that sets courting apart is its seriousness. As a general rule, courting is more formal than dating. It's also more intentional – everyone involved knows what the final step is. Courting is also more structured, with far more rules about etiquette and behavior – part of why it's seen as antiquated.
What's the difference between dating and courting?
If you're wondering about courting vs dating, the biggest difference is the level of commitment. When you date someone, it's much more casual, and there are fewer rules. Depending on the relationship, it can be fine to date multiple people at once. There's no expectation of marriage at the beginning, or even of a serious relationship like there is when you're courting someone.
Romantic relationships through the ages
Dating is a relatively recent phenomenon. Across many cultures, marriage was historically very much a business transaction. That changed during the 18th and 19th centuries, partly because of a cultural shift towards marriages based on affection, and partly because advances in technology allowed people to place ads in newspapers and court each other by mail. However, these were still courtships, with rules and restrictions. It was only cultural shifts – in western societies – from the 1920s onwards, as women gained more rights and society became more liberal, that dating became an acceptable way to find a partner.
Courtship traditions around the world
Did you know that in Fiji, a man who wants to marry must first present his prospective bride's father with a whale's tooth? Or that 'spooning' for Welsh lovebirds doesn't mean cuddling up – it's the tradition of exchanging intricately carved wooden spoons with your significant other? Just goes to show that people are fools for love no matter where in the world they are.
Courting vs Dating: Purpose and Goals
When it comes to what is courting vs dating, the major differences often come down to what the goal of each kind of relationship is.
When you're courting someone, it's usually with marriage in mind. It's more serious than dating is, and family members are often much more actively involved
Dating, on the other hand, is much more casual. The point is to get to know each other better and then decide on any more serious commitment – which is why some people are happy to date for years before rings happen!
How does a modern courtship work?
While courting is by no means as formal as it was in the past, there are still a few things you need to keep in mind if considering courting vs dating. Generally, the families of both parties are involved – Often in decided whether the person you like is an appropriate choice. Once that decision has been made, it's time for a formal introduction. If the introduction goes well, you will be allowed to spend time with each other – usually in public, or with an older family member or friend as a chaperone. It will also be common for the man to express his affection with gifts. After a few months (but usually less than a year) of this, you'll decide whether you want to go to the next level – aka engagement – or dissolve the relationship.
Is courting a good idea?
On its face, courting seems like a terrible idea – antiquated and playing into some terrible gender stereotypes. However, if you're serious about wanting marriage and dislike the loosey-gooseyness of modern dating, with its lack of clear rules and structures, a courtship might be for you. A courtship also allows your family to be heavily involved – which, depending on your family, might be an advantage or a drawback.
On the other hand, the sheer flexibility of modern dating is an advantage all of itself. You can take the time to really know the person, rather than feel pressured to make a decision, and you have far more freedom when it comes to things like sex. Plus, if traditional gender roles are not for you, you'd probably be far happier dating vs courting.
Should you try courtships?
When it comes to courting vs dating, which will work for you is a personal decision. It depends on what your goals are, what your values are, and the kind of relationship you want, as well as your cultural background. Take the time to think through your options and figure out what works for you.
Choose the road to love that works for you
The definition of dating vs courtship might be different, but at the end of the day they're both paths to the same destination. Regardless of whether it's courting or dating you're after, you'll find someone on eharmony. Our unique Compatibility Matching System finds people who share the same values as you and are looking for the same things you are. So sign up for eharmony and start looking for real love today.
How it works
Your search for a great relationship has never been easier with groundbreaking overhaul of the eharmony you know and trust.