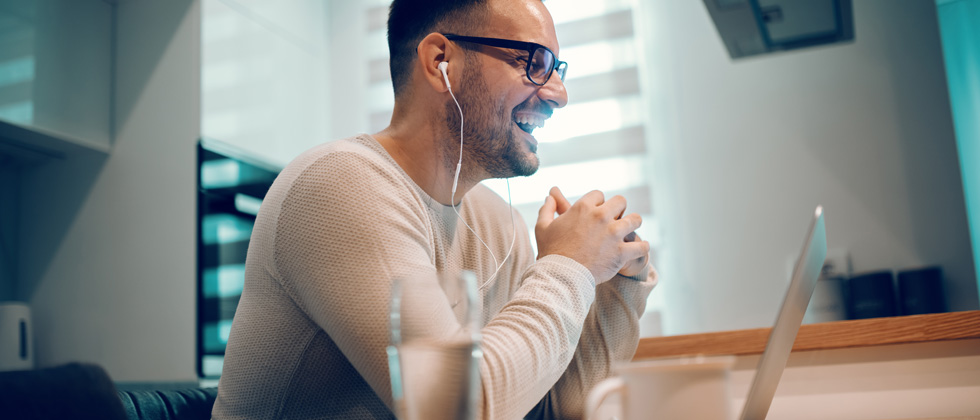 Flirt Online: Charming Best Practices to Flatter Your Potential Date
Don't hesitate to turn on the charm and give your crush a few compliments. In fact, we've found that expressing your attractive can help your potential relationship. Flirting with your crush enhances your self-esteem, betters your communication skills, and even gets you to work on your personality and communication skills. An online flirt is an art that you should learn and master.
So, how do you flirt online – especially with complete strangers you know only from their dating profile? Flirting online does take a certain level of finesse, especially if you're shy, an introvert, or not naturally charismatic. Here are some effective tips that to guide you through your online dating journey.
There's more to online flirting than cheesy compliments or pick-up lines.
Step-by-step instructions on how to flirt online
Learning to flirt online has become a necessary social skill. So, how do we define it? It is a way of making and maintaining engaging conversations. It is a fun but graceful path to forming romantic relationships online.
To start, let yourself be witty, spontaneous, and a good listener. Writing a catchy message to your new online crush or creating a profile that is enticing to other daters is not as hard as it seems.
1. The importance of your online presence for a flirt
Before the real flirting begins, you have to create a profile that is appealing to other daters. It may be wrong to judge a book by its cover but online, your dating profile picture is all your matches have to go on. A great picture is essential to attract matches. And that means a picture of you, not of pretty landscapes or your cute puppy. And no heavy photoshopping, either.
Good to know: Pictures that reflect your interests and the things you love are appreciated. These pictures can be great openers to flirt online.
A smile is always good, it's a warm and welcoming way to meet someone, even through a picture. First impressions happen in one-tenth of a second and judgements are swift. A full-body shot is also preferred or at least a mid-body shot with your smiling face against a nice backdrop. Avoid using your old photos, or the one with sunglasses on.
While attractiveness may not be the most important factor for most online daters, one thing that does matter is honesty. So, while a decent profile photo may spark a conversation we've found that a good personality is more important for successful relationships. Making tweaks to better your chances can sometimes be fine, but pretending to be someone that you are not is not accepted!
Pro-tip: Don't use gym selfies, a group picture, a car selfie or the one you have on LinkedIn with your suit on.
2. Contacting your online crush and the 'getting to know' phase
Sending a first online dating message that simply says 'Hey what's up' or 'Hi, you are cute' are barely noticed or likely ignored by most online daters. So, what should you write instead to initiate a flirt online? Something simple, original and written for the person you're trying to start a conversation with.
Keep your messages short; people want to get to know you, not read your life story right away. Remember, this is the online equivalent of a first conversation and can be make or break. It should be genuine and should leave the other person hungry more for your messages.
Combine your online flirt with humour if it applies to the situation and you are comfortable with it. But beware overly used cheesy lines, it will only make getting to know the other person harder
Pro-tip: Keep the conversation topics light, be yourself and avoid being too enthusiastic to start. Also, don't talk too much about yourself, this is your chance to get to know someone else.
3. Tips to flirt online that will help you win hearts
Finally, you made your profile, started a virtual flirt with someone you feel you connect with – now it's time to really turn on the charm and flirt. So let's get started…
To begin with, pick one thing on their profile (eyes, tattoo, smile…) and compliment them. This is a safe method. Keep the conversation friendly and get them talking.
Do not ask too many generic questions, after a while you're going to lose their attention.
Talk about your personality, hobbies, adventures, or interests and ask them about theirs to keep the online flirt going.
When you have made progress, it is okay to share more photos or even exchange numbers. But don't force things.
Understand the subtle difference between playing hard to get and not being available.
Ultimately, you flirt online to meet in the real-world. If they seem to be interested, be clear about your intentions and ask them out. If you are too shy for this, maybe hint you are interested in a first date.
How to flirt online and enjoy the process with eharmony guided communication
eharmony has unique guided communication features to help you flirt online without hesitation. The pre-designed icebreaker questions will help you get to know someone at your own pace and also take the pressure off you to come up with small talk.
The dashboard, favorite tabs, and inbox help you to keep track of your conversations. You can also use communication tools like smiles and Icebreakers. eharmony checks your profile progress too, helping you be on top of your game, attracting matches.
Looking for specific Dating Tips?
Flirt online: a tried and tested way to get quality dates
When it comes to flirting, it's really just about enjoying the experience while getting to know a partner. The key is patience, good communication and great profiles. Be respectful and do not fear rejection. Like all other skills, you can practise and develop your flirting skills too.
How it works
Your search for a great relationship has never been easier with groundbreaking overhaul of the eharmony you know and trust.