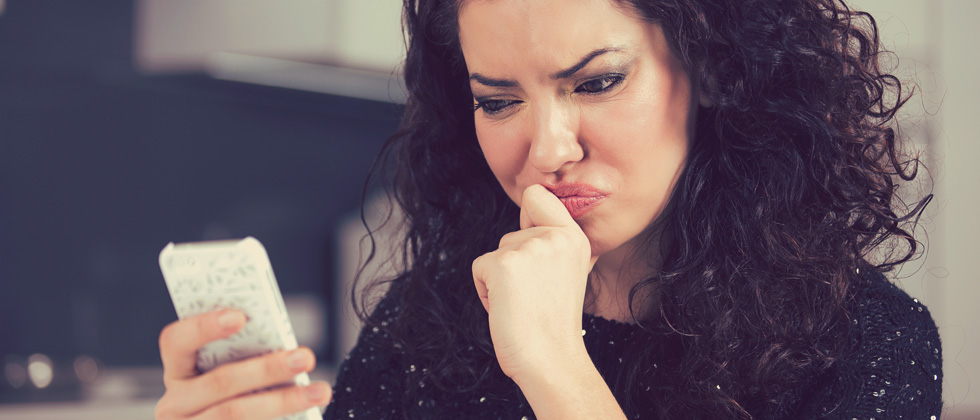 Using eHarmony: Exploring the 'No Way' Setting
Using eHarmony:
Finding the love of your life — that is your goal and ours when you enter into a partnership with us to find your special someone! Our part in the partnership is to provide you with as many highly-compatible matches to communicate with as possible. Your part is to help us refine our search for you with your Matching Preferences and to communicate with your matches.
Most likely, you came to eHarmony with ideas about the type of match who would be the one. The truth is no one knows who your special match will be — where they live, what they look like, or what type of life they're leading — until the two of you are matched and learn about each other by communicating through our site.
So to make sure that you're getting the most from your eHarmony search, I'd like you to consider if you have any "No Ways" that are keeping you from finding that person.
Using eHarmony: "NO WAYS" WHICH CAN AFFECT THE AMOUNT OF MATCHES YOU RECEIVE

• DISTANCE: Even if a previous long-distance relationship didn't work out, that doesn't mean you can't have a long-distance relationship with the right person. And though you may have limitations regarding travelling or relocating, it's possible a match won't. But you can't find that out unless you are willing to receive the match and discuss the situation.
• MATCH CAN'T SMOKE AND/OR DRINK: Because health issues are involved with both of these habits, if you feel strongly that you don't want to be matched with anyone who smokes and/or drinks, we don't want to talk you out of that choice. However, upon further consideration, some members do decide that they'd be willing to receive a highly-compatible match if they strictly limit the habit of concern and handle it responsibly.
• MATCH MUST BE YOUNGER BECAUSE I'M YOUTHFUL FOR MY AGE: Even if you believe the majority of matches older than you may not be "youthful enough," don't miss out on the opportunity to meet someone who's an exception to the rule, just like you.
"NO WAYS" WHICH CAN AFFECT YOUR DECISION TO COMMUNICATE

• MY MATCH MUST LOOK A CERTAIN WAY: Being attracted to your partner is important. But remember you came to eHarmony seeking a long-term, successful relationship, and the attractiveness of one's partner is not a factor proven to predict and sustain such relationships. Every match you receive is compatible with you based on those proven factors.
You're encouraged to trust the process and communicate with matches who may not fit your usual physical requirements. After all, attraction is not just about physical looks. We've all heard of charisma! If you give yourself a chance, you may be happily surprised that a match's sense of humor, caring nature, energy, or other internal qualities are very attractive, and someone you wouldn't usually considered your type is, in fact, the one!
MY MATCHES OCCUPATION MUST BE… OR CAN'T BE… It's common to make assumptions about a match's level of education or lifestyle based on their occupation. But are those assumptions hampering your success by automatically keeping you from communicating with a match? A match's occupation may not require a degree, but it doesn't mean they don't have one. By communicating, you can find out more about their education or future aspirations. Also, assumptions about a match's level of income can lead to faulty assumptions regarding their spending habits. A match who earns a modest income but lives within their means and manages their money wisely may actually be in better fiscal shape than a match who makes more money but manages it poorly.
So you can have the best chance finding your special match, I hope you'll take time to consider if you have any "No Ways" keeping you from finding the love of your life. If you'd like to comment on any "No Ways" I have listed or share others you may have or feel are worth considering, please share your thoughts.