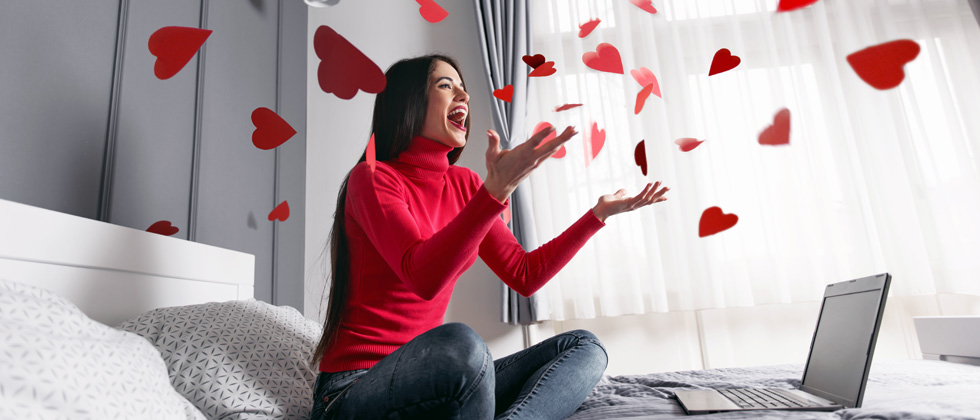 eHarmony and the Art of Match Settings: Distance
Members join eHarmony because they want a long-term relationship with someone who is truly right for them — their soul mate! Our goal is to help each and every member find this person. Several factors contribute to and enhance a member's chance of being successfully matched — one of which is their Match Settings.
Your Match Settings create the matching pool we can use to search for your matches. Therefore, understanding how your preferences affect the size of your matching pool and, consequently, the number of highly-compatible matches you can receive is important. After all, the more matches you receive the more opportunities you have to communicate with someone who may potentially be 'The One.'
That is why Kate and I thought one way we could support your success is to share what we consider the "Art of Match Settings."
Over a series of articles, Kate and I will cover the various categories located on the four My Settings tabs: Distance, Personal Preferences, Background and Beliefs, and Nice to Haves. Our hope is that by discussing these Settings and sharing our recommendations, you'll be able to make the best choices when setting your preferences, which will, in turn, help you have the best eHarmony experience possible!
So whether you're a new member, just learning the ropes, or you're an on-going member who wishes to receive more matches and/or ensure that your account is fully working for you, we encourage you to become a "Master of Match Settings!"
In this article, I will be reviewing the Distance Setting. So let's get started…
1. DISTANCE
• I'm sure that it comes as no surprise that most members would like their special match to live close by. That's certainly understandable. After all, geographic proximity makes it convenient when trying to get to know a match.
The thing I'd like you to keep in mind, though, is you are looking for your soul mate, and the truth be told, no one knows where he or she might be.
If you've taken a look at our Success Stories page, you will see hundreds of successfully matched couples. While some of these couples were "so close but yet so far" before coming to eHarmony, the majority of our successful couples have been matched across hundreds of miles.
I encourage you to read the stories of successful couples who were matched over long distances. You will find that, in some cases, they are just as surprised as anyone that their relationship has flourished and, in some cases, even feel that their relationship was made stronger because of the distance!
To ensure that you are not missing out on meeting someone special, we encourage you to set your distance preference one level higher than you would normally prefer or consider searching on a state to state basis. We also encourage you to take advantage of flexible matching by entering a setting of 6 or lower.
Also, never fear, any time you broaden your distance setting, we will still send you local matches. But now you will also be able to receive matches who may be a distance away but may have potential to be The One — giving you the option of deciding if you want to take a chance on this match or not.
• Something we often hear from members who set their distance preference to a 30 or 60-mile radius is that they do so because they are unable to travel very far to spend time with a match or, should the relationship progress, are unable or unwilling to move and feel it is unfair to expect their match to do the traveling or be the one to relocate. Though this may seem like the courteous thing to do, if this is your situation, my question to you is, "What if someone you feel is truly special is willing to do all or most of the traveling and/or willing to relocate for you … would you say 'no' to that?"
Also keep in mind that for a long distance relationship to work, it is only necessary that one member be willing to travel and/or relocate and until you communicate with your match, you won't know if it doesn't necessarily have to be you. And if you want to be upfront about this matter right from the start, just a reminder that you can share your travel and/or relocation situation with your matches on your About Me page.
• Another thing to consider, especially when choosing a narrow distance setting, is just what area does that distance radius cover? If the vast majority of this area covers water or a low-populated area, such as a desert, you may want to consider extending your search radius or searching by state.
• While we encourage everyone to set their distance setting broadly, if you are someone who lives part of the year in one area and part of the year in another, you may want to consider using the zip codes from both locations during your search. You could switch your search zip every few weeks, or, if you live in one area more often than the other, you may want to use the zip for that location for most of your search. Using both zips will allow you to be included in the matching pool of members who live in those areas who may only be searching locally. Also, when indicating your location, you may want to list both cities as your "My City," for example, Los Angeles/Tampa and add a word of explanation in your About Me page about your living situation.
• Sometimes, while searching for that special someone, a member will relocate. If this happens to you, depending on how soon you'll be moving, you'll want to decide when to change your search zip. Because it takes some time to develop a relationship with a match, you may want to change the zip well before your actual move. This way you will be included in the matching pool for those members who live near your new zip code but may only be searching locally. Also, if things get too hectic right before and after the move, you may want to turn the matching service off on your account, then when you are settled in, turn it back on.
And, as in the previous two cases, your About Me page is a great way to keep your matches informed about your upcoming move and will give matches whom you received based on your "old" zip code the option of starting or continuing communication with you regardless of your upcoming move.
Lastly, as always, we don't want you to compromise on any setting that is very important to you. The great thing about a match's geographic location is that, for the most part, it doesn't reflect a personal characteristic as many of the other preferences do. So broadening this area of your search can greatly increase your chances of finding The One while retaining those preferences which are Must Haves for you!
HOW IT WORKS
Your search for a great relationship has never been easier with groundbreaking overhaul of the eharmony you know and trust.