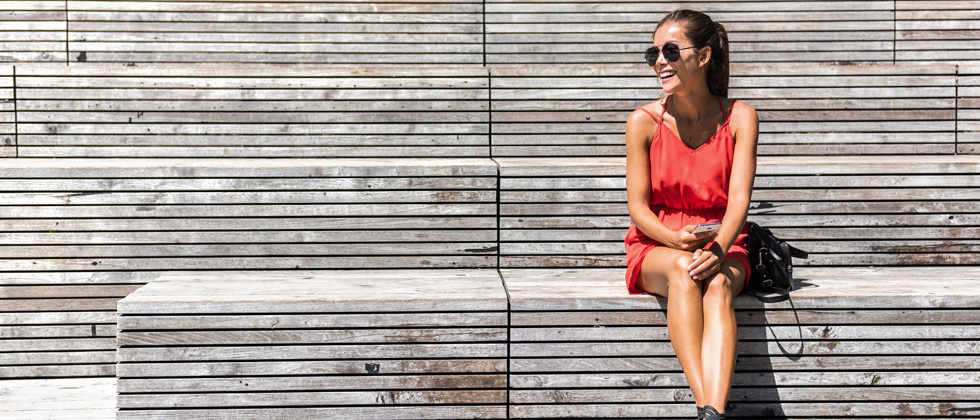 How to Approach Women Without Coming Off Like a Creep
It's happened more times than you can count; you're out, you see a beautiful woman, either by herself or in a group, you go up to her… and you're rebuffed. The same thing has happened to friends of yours as well, which leaves you wondering if you know how to approach women. People who have no problems finding a woman aren't necessarily more attractive or more confident than you; they just have a better idea of the best way to approach a woman.
Signals that confirm you can approach a woman
Before you approach a woman you've never met before, you first need to take a moment and see if there's any signs she's interested. If she's at work (being your waitress, bar tender, or otherwise serving you), stop right there; don't put her in an awkward position by confusing her professionalism for interest. If she's not at work, however, some pretty obvious signals include:
It's in her eyes
If you're wondering how to approach women, look to their eyes for clues. If she looks at you multiple times, or maintains eye contact for a few seconds before looking away and then back with a smile, or if she blatantly checks you out, then go ahead and make a first move.
Her body does the talkinG
Body language is another good clue when you're wondering how to approach women. If she angles her body towards you, or mirrors your gestures when you talk, it's a good sign, as is her casually touching you or lingering somewhere close by.
She makes up an excuse to talk to you
Ever had someone sit next to you and make a casual comment about how slow the Wi-Fi is, or why the bus isn't here yet, or even how nice a day it is? It's a low-pressure way to start a conversation that doesn't quite reach flirty, a sign a woman is attracted while putting the ball in your court.
An important thing to remember is that a single gesture may be a coincidence or just something she does, so look for groups of gestures to give you a better idea of whether to come up to her or not.
How to approach women in public
This is definitely not for the faint of heart, as approaching women in public requires both confidence and a keen sense of the appropriate – you don't want to accidentally creep her out or make her uncomfortable. Keep it casual and direct with a compliment about her ('Wow, I like your shirt!' or 'Great hair!') rather than her body. Keep the conversation topics light and easy. Offer her your number rather than asking for hers – it shows her you're aware of any safety concerns she might have and helps her trust you enough to actually text you.
How to approach women in a bar
While trying to pick someone up in a bar is definitely easier – it's what most people are there for, after all – it's even more important to put your observational skills to work here. You don't want to be the idiot intruding on her night out with her friends, or trying to chat up a girl who's clearly taken. Once you're sure she's interested, use the location to your advantage – ask if she has a favorite snack or drink, then offer to buy her one – it shows you care about what she likes.
How to approach women online
Not with a picture of a certain body, that's for sure. (Seriously, how is this something that even needs to be said to adult humans?) But you don't want to start off with something as generic and forgettable as a 'hey' or 'hi' either. The nice thing about a first online dating message is that you're not going in completely unprepared – you can look at her profile and lead with a question about her vacation to Bali or a compliment about her great taste in music, assuming you like the same bands. Or you can keep it light with a joke so terrible it's good.
How eharmony helps you connect with a woman you like
eharmony is designed to take the stress out of walking up to new people. Not only does the Compatibility Matching System ensure you already have something in common. There are several tools that you can use to start a conversation if someone piques your interest: Smiles if you're the shy type, use pre-prepared Icebreaker questions if you're feeling bolder.
How to get a woman to approach you
Let's face it, sometimes people don't like to be the ones making the first move – they want to be the pursuers rather than the ones doing the hunting. But how do you indicate that you're single and available? Some strategies for how to get women to approach you:
Make an effort to look good: You don't have to have movie-star looks, but dressing well and putting a little effort into your appearance goes a long way.
Keep your body language open: Just as you look to body language for clues how to approach women, they're doing the same to you.
Be – and have – fun: If you're obviously having a good time and seem like a person people want to get to know, the odds of her approaching you get better.
Remember, you miss all the shots you don't take so don't hesitate
While you should obviously be aware of whether it's a good time to walk up to that pretty woman you just laid eyes on, there's no use in being so cautious you wind up not doing anything about it – or if you're so nervous about coming up to her you fail to give other women the opportunity to approach you. And if doing so in person seems too hard, that's what eharmony is for. Sign up and practice how to approach women (and be approached) today!
How it works
Your search for a great relationship has never been easier with groundbreaking overhaul of the eharmony you know and trust.