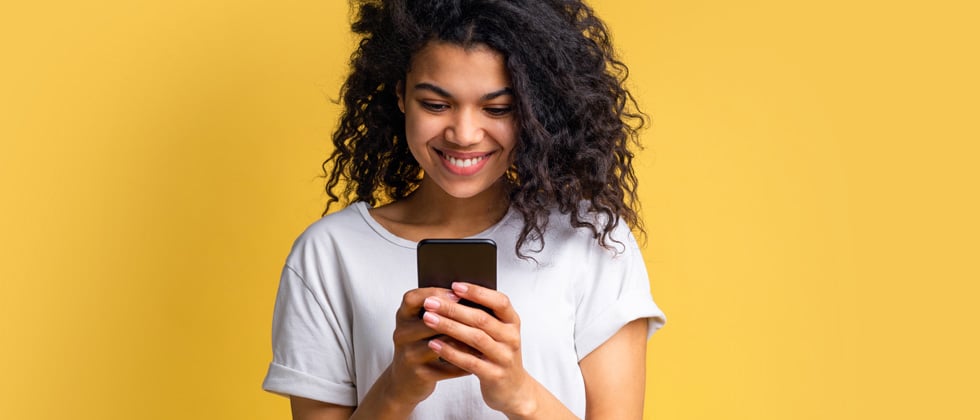 How does eharmony work? 7 tips & tricks to boost your experience
Are you thinking about joining eharmony, or have recently joined and want to get the most out of your experience? This article will help you understand how eharmony works, and how you can maximize your membership, starting with the very first steps you'll take when signing up for eharmony. We'll also share a variety of eharmony tips and tricks you can use to help you connect with your most compatible matches, start a meaningful conversation, and keep that conversation moving forward when you're ready to meet IRL.
What are the first steps to begin my dating journey on eharmony?
Dating isn't just a process of meeting other people — it's also about learning more about yourself, and what's most important to you. eharmony provides members with a variety of tools to accomplish both. Read on to learn more about how eharmony works, what the registration process entails, and the insights you'll discover about yourself along the way.
Learn More About Yourself and Your Ideal Partner Through our Compatibility Quiz
The first step after signing up for an eharmony membership is to take the fun and thought-provoking Compatibility Quiz. The Quiz features a variety of situations and puzzles designed to help you learn more about who you really are as a person, and what's most important to you in your next relationship.
Questions include everything from the aspects of a person that are most likely to spark your romantic interest, to the personality traits you're most proud of within yourself, to the way you react to everyday scenarios in your life. The Compatibility Quiz is at the foundation of how eharmony works — not only does it help us to connect you with people uniquely compatible with you, it also helps you to learn valuable insights about yourself during the process.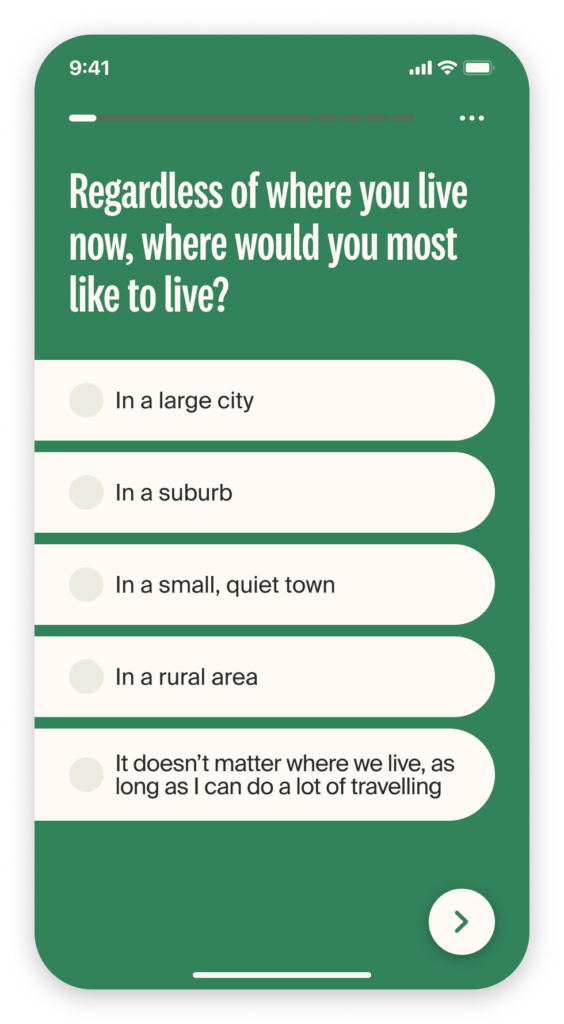 Your Personality Profile Offers a Wealth of Information to Help You Find Your Perfect Partner
Members who have completed their Compatibility Quiz can access their unique Personality Profile, either included as part of their Premium Membership, or available for purchase with a Basic Membership. The Personality Profile summarizes all of the analysis and insights from the results of the Compatibility Quiz into a detailed and highly visual report. The report is also filled with helpful tips and advice you can use to find a partner that's best suited for you, and encourage a happy and healthy relationship once you find each other.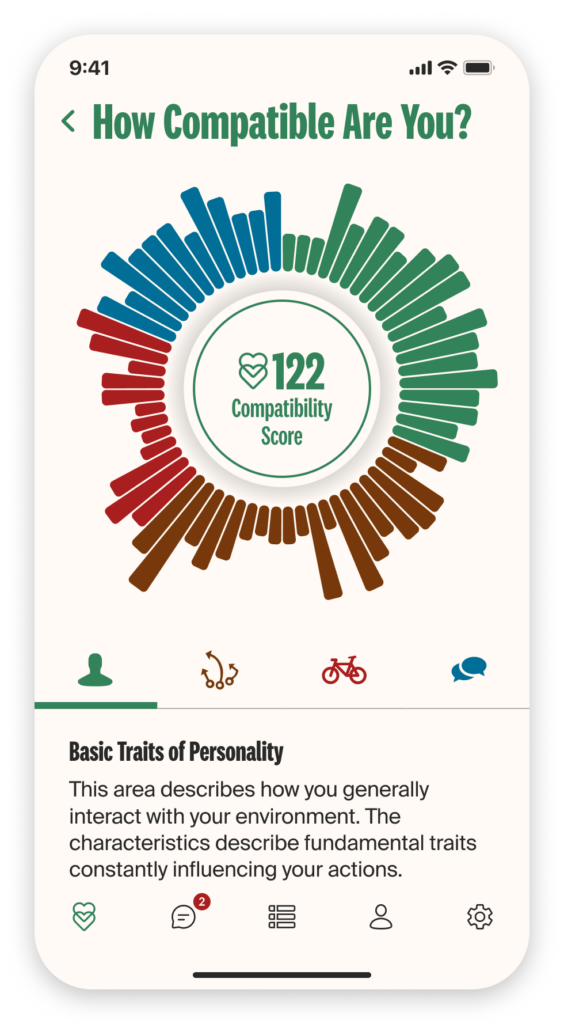 Complete Your eharmony Profile
Next you will be asked to fill out your eharmony dating profile, including providing basic details such as your name, location and other key information, uploading a dating profile photo, and sharing information about yourself to help spark conversation with potential matches. You can find a variety of eharmony tips and tricks for building an authentic and engaging profile on our eharmony Tips page.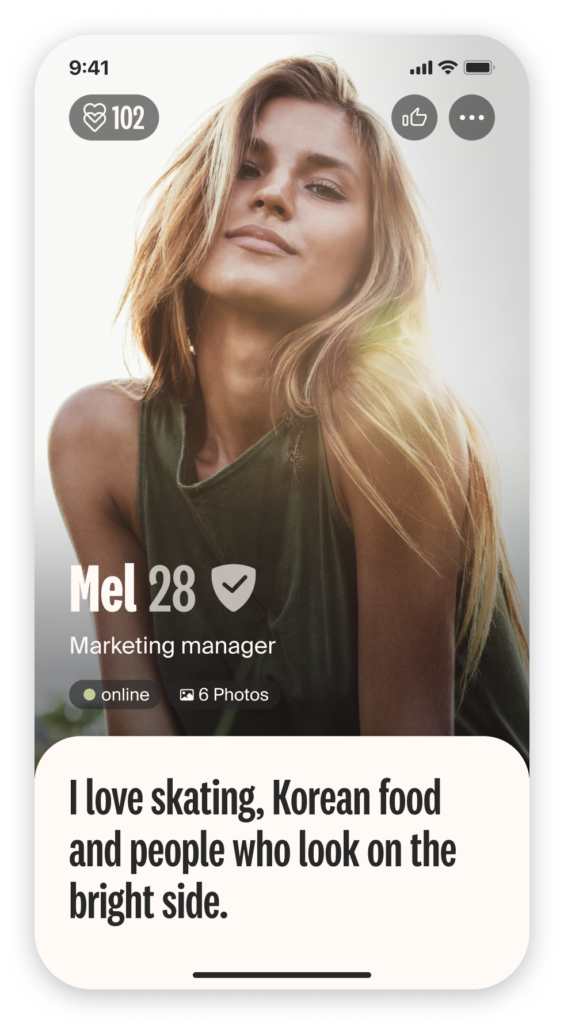 Discover your matches
Once your profile is complete, we'll share your most compatible matches with you, based on the findings from your Compatibility Quiz. Each profile includes a variety of information to help you understand who your matches are, and what they're looking for in a potential partner. Your Match List will be updated as new members join, so you'll never miss an opportunity to fall in love.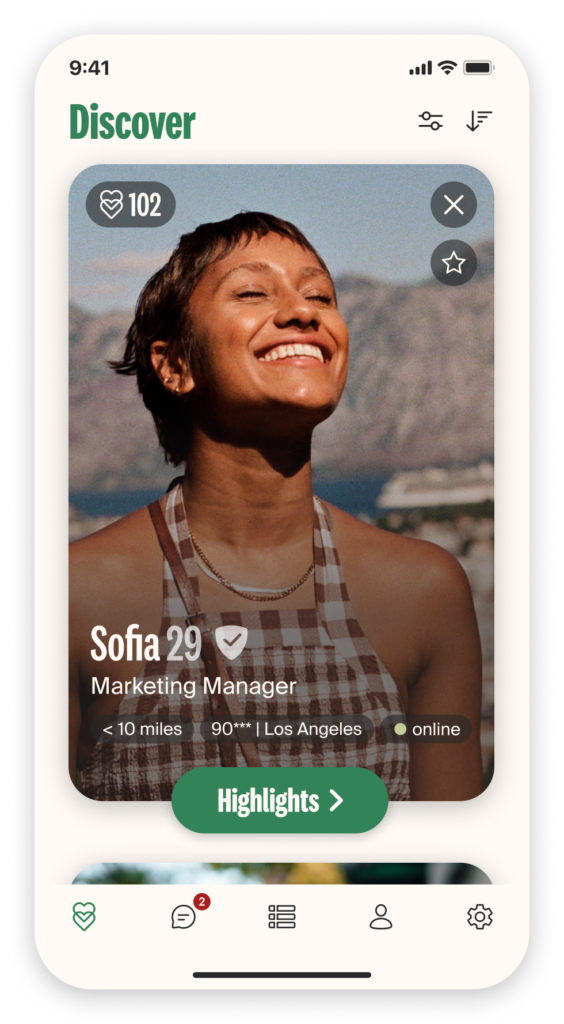 Break the Ice and Make a Connection
Drafting the perfect first message to a match can make anyone a bit nervous. That's why eharmony offers members a variety of communication tools to make it easier than ever to spark a meaningful connection.
If you're not sure where to begin, try sending an interactive Icebreaker to help start the conversation.
Share a Smile, our way of taking that unspoken sign of a spark virtual.
Write a message and find your conversational rhythm.
How eharmony works
Your search for a great relationship has never been easier with groundbreaking overhaul of the eharmony you know and trust.
Seven eharmony Tips and Tricks to Make the Most of Your Membership
Now that you know how eharmony works, here's our advice to create the best dating experience
There may not be a roadmap for finding and sustaining a meaningful relationship, but given our decades of experience in helping millions of people find real love, we've gathered some helpful advice along the way. Here are a few eharmony tips and tricks to make the most of your dating experience.
1. Your eharmony Profile is Your First Impression
Most people are well aware that first impressions on your eharmony profile are incredibly important. So, how does eharmony work regarding to this topic? Upload multiple photos that paint a picture of who you are — pictures that capture your personality, your interests, and the features you love most about yourself.
Recommendation: Take some time to answer the profile prompts as though a date that you're excited about is asking you those same questions face-to-face. This will not only help your matches better determine if you might be a great fit for one another, but also provides them with some great material to start a conversation with you.
2. Treat Every Message as an Opportunity for Connection
When it comes to your first few messages with a new match, look for opportunities to create moments of connection. For instance, ask a specific question about an interesting fact you read in their profile. Offer a personal experience you've had with an area of interest they've shared.
3. Get Your Flirt On
Sending a respectfully flirtatious message to your match alongside the thought-provoking questions and insightful anecdotes about yourself makes your interest in the other person clear.
Examples: This can be as simple as choosing one aspect of their profile that really drew your attention — their eyes, a creative tattoo, their smile — and complimenting them on that feature. Or if you found a personal or professional accomplishment they mentioned to be impressive — such as recently completing a half-marathon, or creating a beautiful painting — let them know!
4. Prepare to Keep the Conversation Flowing
Sometimes when we're nervous, it can be difficult to maintain a vibrant conversation with someone new. It can be helpful to think of questions you're interested in asking your date well before you're face to face.
Ask yourself: Are there topics you discussed in your messages that you'd like to learn more about? Are there qualities that you're looking for in a partner that you're wondering if this person possesses? You can also seek inspiration from first date conversation tips.
5. Be courage and risk to be vulnerable
Learning to be vulnerable despite your fears, insecurities and natural imperfections is one of the most important aspects of dating. Being vulnerable and creating opportunities for healthy sharing is the path toward true intimacy and connection. It's through vulnerability that people truly get to know one another, build a genuine bond and build a meaningful relationship, or determine that you aren't the right fit.
That means: If you don't share about yourself or allow yourself to be vulnerable you may be protected from rejection, but you also won't know if you're a match. Being vulnerable can be uncomfortable and scary. But remember that you are worthy of real love and connection, no matter what happens with the person you choose to be vulnerable with.
6. Keep an Open Mind
Many of us approach dating with a long list of attributes we think our perfect person should possess. And while it's important to stay true to your values and the qualities that are most important to you in a partner, it's equally important not to focus on more superficial traits.
For instance: If you always dreamed that you and your partner would spend cozy weekend afternoons reading novels side by side, but you've found someone who makes you incredibly happy yet hasn't picked up a novel in years, there's a solid chance you'll find other hobbies to enjoy together. Just make sure they also give you the time and space to read your beloved novels.
7. Getting to Know Each Other Takes Time
It's only natural to be excited when you've met someone who fills your stomach with butterflies. It's one of the best parts of a burgeoning potential relationship. Allow yourself to enjoy it! Though it's also important to recognize that truly getting to know another person will take time. Do their actions continue to match their words? What impact does a bad day have on their personality? How are you able to navigate conflicts with one another? Having the opportunity to learn these aspects of a person and how the two of you interact during these instances provides important insight on the depth of your compatibility, and your ability to withstand life's inevitable challenges together.
eharmony: How it Works Makes it Worth it
If you're ready for real love, we're here to help you find it, and discover valuable information about yourself during the process.
Here's a recap of the steps you'll take to become an eharmony member:
Start by signing up and taking our Compatibility Quiz
Take a look at your Personality Profile to find insights about yourself and the partner that's best suited for you
Create an authentic and engaging profile
Meet matches who are uniquely compatible with you, based on the findings from your Compatibility Quiz
Get to know each other by sharing a Smile or an Icebreaker or send your first message!
Join today to take the first step toward more meaningful and compatible connections!
---