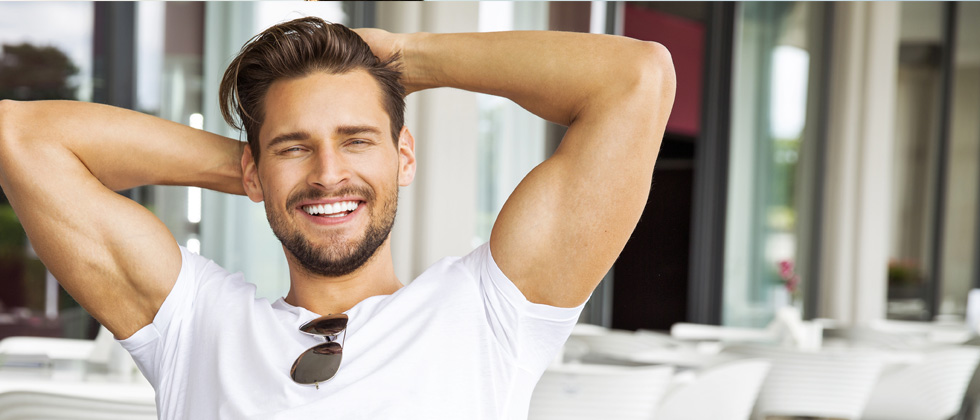 A Wink and a Smile: The Way You Appear is About More Than Your Looks!
Finding yourself back in the dating game, perhaps for the first time in many years, can be both exciting and scary. Making a good first impression is key, and here's how.
Finding yourself back in the dating game, perhaps for the first time in many years, can be both exciting and scary. The thought of putting yourself out there to be sized up as worthy of someone's desire can put the brakes on your quest before it's even begun. Not to mention the blind dates, the awkward phone calls, the "I know the perfect someone…" that every friend is bound to say—right before they attempt to set you up with Hannibal Lecter.
No thanks, you may think. I'll just sit here, all alone, eating a pint of Rocky Road, just me and my Lost DVDs.
What is it that causes that doubt and fear to rise up inside you like acid reflux and potentially sabotage a chance for lasting happiness? Why, for example, did it seem so much easier to date when you were in your 20's? Maybe because back then, you couldn't conceive that one day you were going to end up checking the box that says "Divorced," which feels to most of us the same as "failure." Or maybe, just maybe, you had more self-esteem back then. The world held so much promise and the possibility of broken dreams was not on your radar screen. Alimony, grown children, decades of bachelorhood, being replaced by a younger model, and plain old gravity just don't make people feel like they've got much sex appeal.
So whether you're picking yourself up from what feels like defeat, or you've arrived at the right moment in your life to look for that special someone to love, rediscovering the confident, attractive person you really are will be the key to your success as you move back into the dating world. We all know the importance of a first impression, whether it's at a job interview, or when meeting that person we hope will be The One.
What is it about a first impression that really makes it a lasting impression? Is it the way we look, as in the perfect new haircut, our recently bleached teeth, a shiny new leopard-print Speedo? (Ok, so that would probably be a lasting impression—but not necessarily a positive one.) Or is it something much deeper and much more meaningful inside of you? By now you've probably heard or read about a phenomenon called the "It Factor." You know, that mysterious effect which separates the extraordinary person from the rest of the pack. But what exactly is "It?" And more importantly, how do we get It?
We've all met people in our lives that did not possess what would be described as classic good looks. However, there was something about them that you found very attractive. Was it their intellect, or perhaps a wicked sense of humor? Or was it just that they were so comfortable in their own skin that their self-confidence made us want to get to know them better—and indeed, be more like them ourselves?
Finding that deep inner confidence that will make you irresistible to others may not be as hard to achieve as you think. If you follow these three simple steps, you'll find yourself well on your way to being the most desirable person in the room. You may even need to hire a bodyguard.
Step 1: Be Authentic.
Nothing turns off a potential mate more than spotting a phony. So say what you really think, not what you believe others want to hear. Being true to who you are will attract the right person for you. Note: this does not mean your hair color has to be authentic. But that'll work, too.
Step 2: Listen Well.
Have you ever heard the saying, "No one ever learned anything while talking"? While it may be fun for you to regale the crowd with stories of your second cat's fourth litter of kittens, or the impossibly long dream you had about eating schnitzel with Denzel Washington, you'll need to listen to know who could be the best match for you. Being a good listener is a better skill to master than being a good French kisser. Well, at least master it first.
Step 3: Stay Open-Minded.
We'd all like to imagine there is that one special, perfect person out there waiting for us. But did you ever think they might not appear that special or that perfect at first glance?
Love at first sight doesn't always turn out so well—in fact, it's often a pretty thin disguise for lust at first sight. Wouldn't it make sense that love at second or even third sight might just be your perfect match after all? Sometimes the person you least expect can be your perfect match.
Using these simple steps will bring out the "It Factor" that you possess. Yes, you have the power right now to attract your own perfect mate; you're doing it right now, even as you sit reading this, slurping up the backwash in your bottle. You just have to believe it!
Laura is an Advice Expert for mylifecompass.com. Laura Fenamore, CPCC is a gifted Body Image Mastery Mentor and a celebrated speaker, lecturer and teacher to thousands of people worldwide. Laura's company, Body Image Mastery, is devoted exclusively to helping people find balance in their lives and learn to value the home they get to live in – their body. Her vision is living in a world where health and body image are celebrated. Her approach is unique. Jack Canfield, co-creator of the "Chicken Soup for the Soul" series thinks so. Here's what Jack has to say: "If you're looking for someone that could help you get clear about where you want to go… feel comfortable, safe and motivated and get the results… I want to encourage you to work with Laura." Laura shares her own journey of rebuilding body esteem after severe obesity and multiple eating disorders; (she lost 100 pounds twenty-one years ago and has kept it off) a journey that has led her to helping other people live more joyous and balanced lives. If you are ready to start loving who you are right now and what you see in the mirror today, then you have come to the right place. With the launch of OnePinky.com, a Body Image Revolution has begun. Through the OnePinky Community and Laura's 12 week Course, Loving What You See in the Mirror (Crucial Components to Permanent Weight Loss), Laura offers a safe way for women to explore why we so often put ourselves at the bottom of the "to do list", and what impact this has on our health and body image.