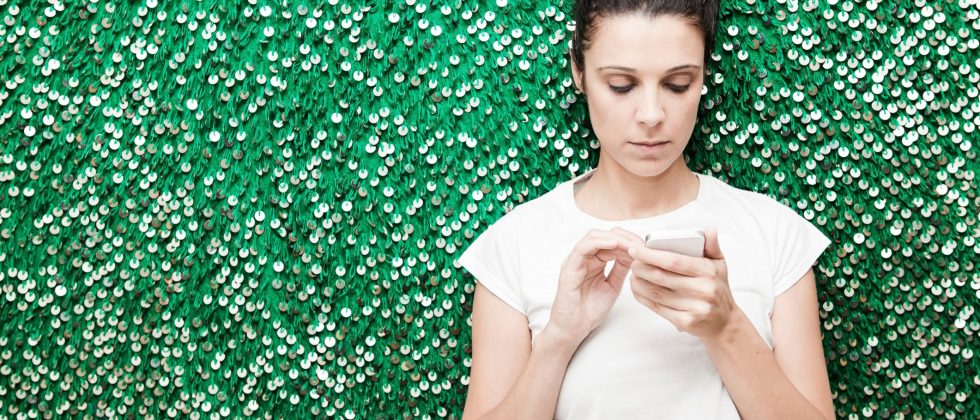 Why We Online Daters Are Our Own Worst Enemies
by Lori Lewis, Online Community Manager
-
February 27, 2013
I'm a longtime online dater. Most of my dates and relationships have originated online. As someone who's never been into the bar scene and is a bit shy at first, I've always thought that online dating was a great method to find a mate. Over the years I've used many of the same sites our eHarmony members have, and I can personally relate very deeply to the rollercoaster nature of online dating.
Through this method I've found wonderful relationships that lasted years, been on first (and last!) dates that still to this day make me cringe, and have made lasting friendships that thrive today. I love and believe in online dating…but will be the first to admit that sometimes it ain't easy!
In my role at eHarmony, I've talked with and observed conversations between thousands of singles via eHarmony's Facebook page, Twitter, and in other social media outlets and online forums. Over time, I've observed (and lived!) the many ways in which we online daters are our own worst enemies and play a critical role in our own lack of success.
In the interest of seeing more of us succeed in our quest for love, I am putting it all out on the line — pouring my heart out to share these observations and tips with you. Please know that I'm in the trenches right along with you, and the things I'm about to discuss — including the "tough love" I'm about to dish — applies to me as much as to many of you.
Here are five ways we online daters are our own worst enemies:
1. We're really not that into it…
Some of us feel badly about "having to resort to online dating" to find the person we're looking for. To be honest, we REALLY need to get over that. Not only is the stigma dead and buried (as well it should be!) but we've reached the point where we live so much of our lives online that it's SMART to employ technology to help you find a happy relationship. Some of us go into it assuming it's not going to work, that it's going to be a waste of time (and often money) and that we'll end up ultimately disappointed with the outcome — and still single, to boot. It's a very easy trap to fall into and it takes conscious effort and work to not only keep a positive attitude and believe that it will work, but to maintain that positivity during the inevitable ups and downs during this process.
Take everything you're about to do very seriously — for example, commit a couple of hours to answering those 200+ questions we ask at eHarmony. Consider each question and answer with what IS true, vs. what you WISH was true about yourself. It's absolutely critical that you be completely honest in answering those questions, as THAT is the basis on which we match you with other singles on our site. To illustrate just how important this is, I'll share a story: I recently had the good fortune of being on set for our new eHarmony commercial shoot, and talked with our couples. It completely changed the way I look at online dating. As we talked with each couple, themes emerged and "honesty" — both with ourselves about who we are and what we want, as well as with our matches — was a major theme in these couples stories of success. This process, particularly on eHarmony, is like anything in life: You get out of it what you put into it.
2. Our profiles are "meh" — or, are rife with vagaries and negativities
You answered all the questions honestly and filled out your profile/uploaded a few photos. You're getting lots of views to your profile, but no one's communicating. Definitely frustrating. Clearly none of your matches are serious about this process, they're all shallow and looking for a man (or a woman) who's: ______ (insert any one trait you think you don't possess: richer, taller, thinner, younger, etc. )
So, just what is the common denominator here, then? You guessed it…YOU. Or, more accurately, your profile. How do you feel about the profile you've created? Is it robust and does it include multiple recent photos that accurately convey you as you are TODAY (or at least very recently)? Is it free of typos/grammatical errors? Does it use cliche answers to critical questions? ("I'm passionate about so many things, it's really hard to pick just one." "I'm really not sure what people first notice about me….I'll have to get back to you on that one.")
This is your chance to demonstrate that you're a good communicator. When you're given an opportunity to be creative and stand out in a positive way, why wouldn't you take it? Does your profile speak to who you are without expressing any negativity about you or your potential dates/matches — or prior romantic partners? There's virtually no better way to repel great matches than by filling a profile with overt negativity toward the opposite sex, online dating, the dating process, or relationships in general. Don't talk about what you don't want — talk about the qualities you seek in a partner, and the good qualities you offer in return. If you need help with this, a close friend or family member of the opposite gender is a great place to start.
And a quick word on photos…the more, the better. They should be recent and captioned with dates. They should be varied — some closer up, some full body. And finally, PLEASE do everyone (especially yourself!) a favor and resist the urge to take photos in your bathroom mirror. And if you must take them, please don't post them on your profile! These are almost never flattering photos and they leave your match wondering, "Doesn't he (or she) have anyone in their life who can snap a decent photo of them?"
Finally, I would be remiss in discussing this topic without mentioning one of the chief complaints that members express to us, that their matches are non-paying members who can't communicate with them. In many cases that may be true, since we do offer everyone who joins the site the chance to review their matches for free before communicating — but we work very hard to provide affordable opportunities for subscriptions to anyone who wants them. And we have reams of data which prove that when someone sees a match they truly want to communicate with, they WILL subscribe.
3. Our expectations are too high, in a couple of very damaging ways.
It seems that many of us expect to either rarely or even never face rejection as part of the process — and we often take it very personally, even harmfully internalizing it when we are rejected. Remember, rejection is part of the process. Just as you won't feel moved to communicate with ALL of your matches, not every one of your matches will want to communicate with you, and that's okay. If someone closes you out as a match, all it means is that they weren't the one for you. It's not a sign that you're "undateable", that you'll "always be alone" or that "love's just not for you." While it's easy to get negative when a rejection happens, it's critical that you don't go there — otherwise you'll be putting negative energy out there about yourself — and in doing so, creating a self-fulfilling prophecy.
In his renowned career planning book What Color Is Your Parachute?, author Richard Bolles once included the picture of a typical job search, an entire page of his book that contained the following:
NO NO NO NO NO NO NO NO NO NO NO NO NO NO NO NO NO NO NO NO NO NO NO NO NO NO NO NO NO NO NO NO NO NO NO NO NO NO NO NO NO NO NO NO NO NO NO NO NO NO NO NO NO NO NO NO NO NO NO NO NO NO NO NO NO NO NO NO NO NO NO NO NO NO NO NO NO NO NO NO NO NO NO NO NO NO NO NO NO NO NO NO NO NO NO NO NO NO NO NO NO NO NO NO NO NO NO NO NO NO NO NO NO NO NO YES
The search for love can look a lot like this as well. And in both cases the thing that really counts is the YES. It makes all the NO's you had to go through to get there (be it one closed match, or a few less than great dates, or some promising prospects who up and disappear) completely worthwhile in the end. You can't expect it to happen overnight. While some people are lucky and are matched to their love quickly, the vast majority have to wait a bit longer.
4. We often fail to "keep our eye on the ball."
As we evaluate our matches, many of us get hung up on things that in the long run are not terribly important to a happy long-term relationship. Our service is designed to dig into the things that DO promote long-term satisfaction in relationships, and match you up with others who score similarly in those areas. Even if the profile doesn't shine with awesome, (and many don't, since people are notoriously bad at writing about themselves) if we've matched you, the potential IS there. Maybe they're a couple of years older than you hoped, or he's not quite as tall as you'd like…sticking doggedly to a "type" when your goal is to find a long-term relationship is a recipe for failure.
Now, this isn't to say that you should date someone you do not find at all attractive or who lives 1500 miles away just because they might be a wonderful person. But if all signs are a go except one thing — and that one thing is not something that lends itself to long-term relationship satisfaction — you're simply not taking an active role in your own success if you don't at least try to talk to that person. Love is often found where you least expect it, and can come in a package that isn't quite as tall, or is a few years older, or a few miles further away than you thought it would be.
5. Dead end communicator…
So, you've put together a sparkling profile, one that virtually oozes with indicators of just how terrific a person and partner you are. You're rocking a bunch of recent, varied photos. You're getting attention — so much so, it's almost hard to keep up with replying to everyone who writes you. Even if there's temptation to reply only to the people who are REALLY interesting to you — don't. Reply to everyone. Even if it's a simple, "Thanks so much but I don't think we'd be a good match — I wish you the best of luck!"
Everyone deserves to be acknowledged. They were probably excited to reach out to you, and to do so and simply not hear back is probably one of the most disheartening parts of online dating, so don't do that to someone else. As for the matches you're excited to communicate with, be sure to be an exciting and engaging communicator. Glance over their profile and personalize your approach. Be sure to end with a question about them, so they have a reason to want to respond to you. Before you hit "send," read your message and ask, "Would this make ME want to hit 'reply'?"
Sometimes over the course of communication, like after one or two dates that are clearly not leading anywhere, there's a temptation to just disappear. Again…don't. There's a lot of debate about the most appropriate format for breaking off conversation at various stages of the online dating process, but the bottom line is it's unspeakably rude to just leave someone hanging. You wouldn't want someone you were interested in to do that to you, would you? Then don't do it to anyone else. It's common courtesy to at least send a text or an email to close things off.
Thus ends my rant, manifesto, whatever you want to call it. Go forth and be kind. Relax and seek out the FUN in the process. All easier said than done sometimes, but all entirely worth the effort and it will not just make for a better dating experience — it'll make you a better person and partner in the process.
Have you been guilty of any of these online dating behaviors? What have you learned that you would like to share with others?