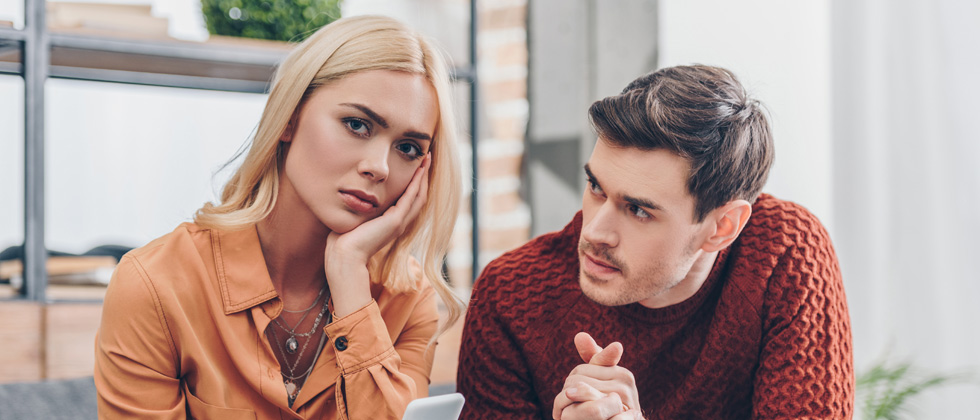 How to Make Sure He Doesn't Waste Your Time
In dating, few things feel worse than pouring your heart into a relationship only to find out that a guy isn't in it for the long-term.
In dating, few things feel worse than pouring your heart into a relationship only to find out that a guy isn't in it for the long-term.
Wouldn't it be great to know right up front, before you get involved with a man, whether or not he's up for a long-term relationship with you? Well, I'm going to tell you how to find this out without scaring a man away, so that you never have to wonder if you're in a go-nowhere situation. And I'll show you how to do it in a way that actually increases a man's attraction for you.
WHY CERTAIN QUESTIONS MAKE EVEN A GOOD MAN RUN
Putting pressure on people in important situations and choices in life causes more harm than good – you won't get a positive response. The questions "where's this going?" and "how do you feel about me?" put pressure on a man or else try to convince him that things should be a certain way.
Instead, you have to let a man know that you don't want to casually date forever FROM THE START, if that's your intention. But the trick is that you can't do this through pressure or any kind of passive-aggressive behavior. If you let a man know what you will and won't tolerate in a relationship early on, then he won't feel cornered or "hassled." Here's exactly how to do this…
THE PRESSURE-FREE WAY TO LET HIM KNOW WHAT YOU NEED
Another reason why men don't normally respond well to "the talk" is that it often winds up in a long, drawn-out conversation that can leave the two of you feeling drained and negative about each other. Men respond best to direct, goal-oriented conversations.
Say, "I will only keep seeing you right now if this is going somewhere and you aren't seeing anyone else, because I'm not and I don't want to waste my time."
When you say this to a guy, there's an unconscious button that's pushed in his mind that basically tells him and instills the belief that "this is a respectable and desirable woman who has the ability and the strength to pick and choose what happens in her life and with men, so I better make good of the situation."
COMMUNICATING YOUR EXPECTATIONS WITHOUT BEING NEEDY
Once you've communicated your expectations like this, resist the urge to keep bringing the issue up. Continue to enjoy getting to know each other. If all this goes well and you start becoming closer and closer to a man after weeks or a couple of months, then it's time to say in a calm and casual voice:
"I'm happy with you and I want to keep dating…but the future's important to me, too. So let's see how we feel about things over the next few weeks or months (set a time here you feel comfortable with), and we'll decide where this is going and to continue if there's something more serious that we're both interested in and want."
And kaboom. This is like the ultimate ground-shaker for a man. You haven't pressured him, you're not going on and on about it, and you're sticking to your guns. If a man is at all interested or serious about you, then watch out after this conversation. He's going to suddenly be wildly open, affectionate, and want more with you. With the pressure off, he'll feel a natural desire to get closer to you. He'll realize that you have choices here, too – and the right guy will want to make sure you choose him.
________________________________________________________________________
Understanding attraction and how it works is absolutely critical if you want to create a connected, lasting relationship with a man. To learn more about the kind of woman a great guy is attracted to for the long term, subscribe to Christian's free e-newsletter. He'll tell you what makes a guy want to commit to you, and what you can do to get him there without any convincing or game playing.