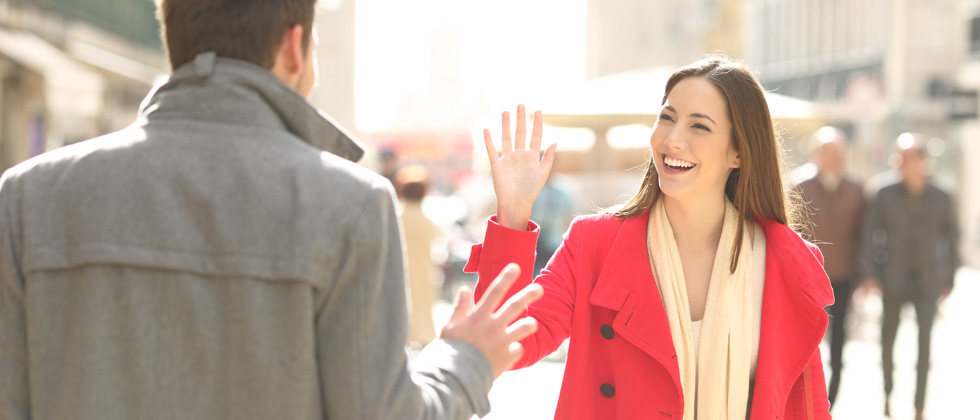 How to Approach a Stranger for a Date
We just had an interesting discussion in the eHarmony office about how to approach a stranger you are attracted to and would like to ask out on a date. My colleague and dating sage Grant Langston thought it would be best to approach the person, strike up a conversation and find out what their interests were. Use the information you gather to ask for a date: "So you really like hiking…we should go together sometime."
Now, my female co-workers and I weren't too thrilled about the idea of partaking in an activity (especially any type of exercise) with a date – no matter how cute he was. We agreed that working out together was to be saved for when you are more comfortable with the person (Hey, only special people get to see us at our sweaty best!).
We thought the best approach was to just go up to the person and simply say, "Hello. How are you?" From there, make some small talk, and I think it is usually fairly obvious right away if there is interest on behalf of the attractive stranger. If you are feeling "it," ask for their phone number or email and continue the "getting to know each other" process. No pickup lines needed. Right? Wrong? Or should you have a brave friend/wingman approach them and find out if they are single?
Grant had some comments below about our advice (which you will likely love if you're a guy):
It's always interesting to hear a group of women talk about how to successfully approach them with an aim towards a date. "Just come up and say hello!" they say. If that approach worked, there would be a lot less frustrated men walking around. Much like the famous statement, "I just want a nice guy," it's clear to me that there is a gap between what women think they want, and what they react positively to "in the field." It has not been my experience that women react well to the cold call, "Can I have your number?" Or I should say, if you're a very attractive guy that is smooth and cool that approach probably works.
A very attractive guy typically has many things that will work when asking out a stranger. For the more "average" fellow, it's a little harder than that, or a lot harder than that. My point was that if you establish a shared interest with a person there's a reason to hang out. Here's a true and recent example. My friend Michael strikes up a conversation with a woman. They start talking about music and he finds out she loves Americana music. He knows several Americana bands and says, "Hey, my friend plays in an Americana band. We should go check it out." Now, he's asking her out on a date no doubt, but it feels more natural than, "Hey, can I have your number or email?"
I confess, Grant does make a good case for his advice…maybe we were thrown off by the hiking thing?!
In any case, we want to know what has worked for you. How did you go about approaching a sexy stranger? What topics did you cover? Were you successful in getting a date?