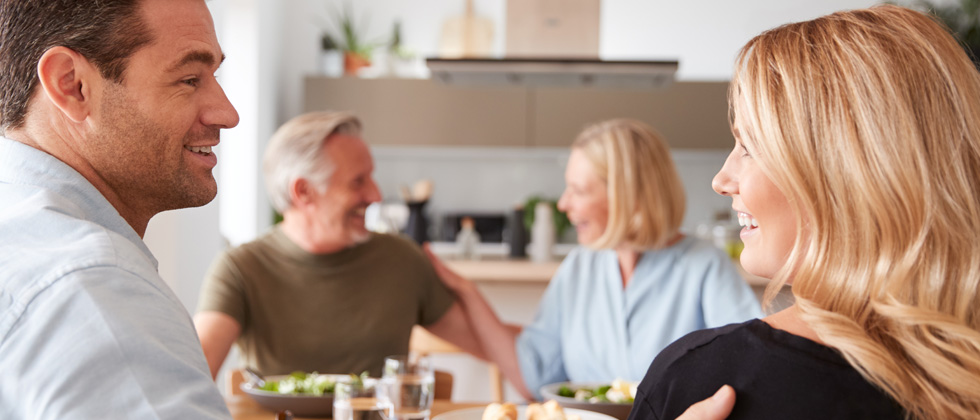 The Look of Love: Meeting His Parents
Meeting a man's parents will always evoke a bit of anxiety (if not sheer terror) in a woman. After all, you want to make a good impression. You want them to like you and like you with their son. We're here to help you channel grace, poise and ease--from the outside in--for this momentous meeting.
Unexpectedly, over dinner, your current flame announces he'd like you to meet his parents. Your jaw drops and your heart soars. This is wonderful news. It means he definitely likes you. It means this relationship is actually headed somewhere.
Then just as quickly as it came, your elation fades. Your palms begin to sweat; your knees buckle; your heart starts racing. You realize you will actually have to meet his parents. It means you are in for a night of the always-awkward getting-to-know-you routine. Not fun.
Meeting a man's parents will always evoke a bit of anxiety (if not sheer terror) in a woman. After all, you want to make a good impression. You want them to like you and like you with their son. You also want your man to be impressed with how you handle yourself. It all adds up to a lot of pressure. That's why eHarmony and partner Neutrogena are here to help you channel grace, poise and ease – from the outside in – for this momentous meeting.
The Outfit
People tend to read a lot into someone's character/personality based on how the person dresses. Right or wrong, it's human nature. So we suggest keeping your outfit classic and simple when meeting his parents.
Think about how your parents would want your new man to dress. They'd likely not be too thrilled if he walked into their home as if he were heading to the gym or out to a bachelor party in Vegas. Think job interview appropriate. Think traditional. Think classy.
Another quick tip: avoid trying to impress them with your fashion IQ. In other words, don't pile on every current trend. Instead opt for chic looks that are always in vogue. If you are going out to a nice dinner, choose a simple A-line dress. Make sure it isn't too short or too low cut. Keep in mind that it is always better to err on the side of conservative when meeting the parents. Sexy is for your boyfriend. Sophisticated is for his parents.
If the meeting is a bit more on the casual side, choose well-cut jeans or trousers that aren't too tight or worn. Pair your pants with a sweater in a flattering color or a tasteful, feminine blouse. Remember casual doesn't mean slovenly. So keep the sweat suits and tennis shoes in your gym bag.
Finally, yes, it's important to show your personality in your outfit and we would never tell you not to express who you are. But remember you want his family to get to know you, not to get distracted by your ensemble.
The Accessories
First and foremost, you want to convey refinement, style and taste at this important crossroads. So paying attention to the details of your look is key. The shoes, purse and jewelry you choose can convey that you know quality when you see it.
It's not about going out and buying something new or expensive; it's about putting together items that indicate you have a discerning eye. After all, parents want to feel that the woman who is dating their son has good taste.
Again, it's better to keep the accessories classic and conservative. This might not be the best time to teeter around in your vampy stilettos. Instead opt for cute flats or an ultrafeminine kitten heel. A good bet is always a unique or bright purse. It can be the perfect way to add a bit of sass to your outfit and serve as a conversation piece.
Above all, don't get too fussy with your accessories. Remember you are going to be nervous no matter what. No need to add a painful shoe or distracting chandelier earring to the already uncomfortable situation. A unique or bright purse can be the perfect way to add a bit of sass to your outfit.
The Makeup
For makeup tips, we've brought in Neutrogena's Celebrity Makeup Artist Matin to help you look your best when meeting his parents for the first time. Matin takes you through step-by-step instruction for an easy, natural look that's sure to go over well with the first meet-and-greet. Watch the Video Now!
Here are a few of Matin's insider tips.
For a Flawless Face:
It's easy to get a naturally flawless look when you start with a cream concealer. (We recommend the 3-in-1 Concealer by Neutrogena.) Application should include the areas under your eyes and any blemishes you would like to cover up. When choosing a shade be sure to match your chest and neck area, which is the best way to achieve a natural look.
The secret to sparkling Eyes: For a subtle, yet flawless look, use two neutral eye shadow shades. We recommend Neutrogena Nourishing Eye Duo. They come in a range of expertly coordinated shade pairs, which takes the guesswork out of finding the right shades. The base shade should be a light shade, to give your eyes an even, softly bright appearance, while the accent shade should be darker to add a touch of contrast. Start by sweeping the base shade all over the lid.. Then, apply the accent shade along the lash line, blending upwards into the crease. Finish the look by adding a touch of the lighter base shade to the inner corners of your eyes to make them look naturally bright.
Great tips for Ooh La Lips
Gloss is a great way to have shine without too much color. (We recommend Neutrogena MoistureShine® Gloss.) Choose a color that mimics the color of your lips. Then pout your lips and apply with your finger or the application wand. Start to apply from the inside out in a tapping motion. Then rub your lips together to evenly distribute color.
For the complete look and more secrets from Neutrogena's celebrity makeup artist Matin, click here.
The Attitude
One last tip – remember to breathe. And be yourself. Seriously. Remember that though his parents' opinion matters, your boyfriend has already proven that he enjoys spending time with you. He likes you for who you are. Take comfort in that. Look at this event as just the first of many opportunities to show his parents that he's made a great choice in you.