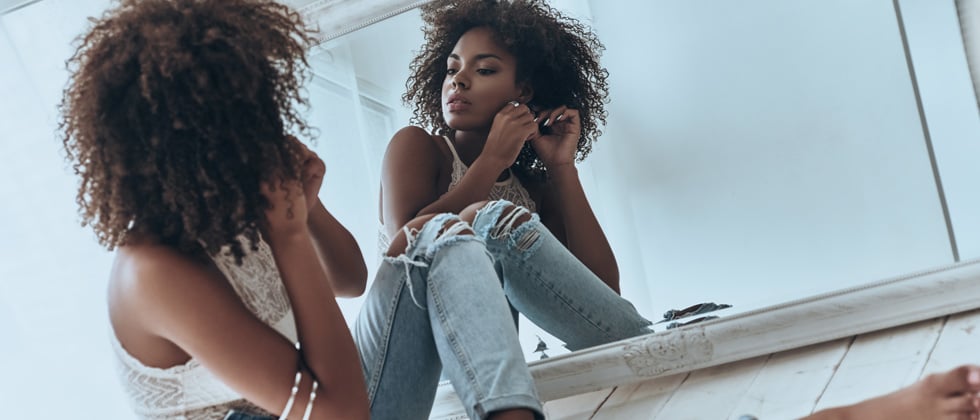 How to Get your Sexy Back after a Divorce or Bad Breakup
Divorce or breakups can be devastating. Some of us hide, others put on fake smiles -- and many of us get right back in the game without taking time to heal.
Divorce or breakups can be devastating. Some of us hide, others put on fake smiles — and many of us get right back in the game without taking time to heal. One important thing you never want to lose during the process is your self-confidence.
Divorce or breakups can be devastating. Some of us hide, others put on fake smiles. Many of us get right back in the game without ever taking time to heal. Others give up forever and pretend they're fine without a man, yet secretly yearn for that special someone.
As a Relationship Coach for the past 15 years, I take women from feeling frumpy to sexy, overwhelmed to organized, running on fumes to exploding with energy, joy and confidence. I didn't begin this journey walking my talk. In my early 20's, I married a tall, dark and handsome multimillionaire who was a great man, yet I was an insecure people pleaser afraid that I'd never find anyone to love me or take care of me. I'm grateful for the divorce because it taught me to trust myself, believe in myself and base my relationships on a deep, soulful connection.
Husband number two was also a great guy, yet I got pregnant the week after my mom died at my sister's wedding. I couldn't save mom, my sister had someone, so I was going to make this work! This too ended in divorce. I bought him out, fearfully stayed in the house, drained my savings and found myself in huge debt. I was a terrified, ashamed, single motherless mom and hit rock bottom. During a powerful meditation one night, I looked into my son's eyes declaring that I would become a woman of power, joy and grace.
Then a miracle happened. I met the amazing Leeza Gibbons, coached her through Dancing with the Stars and began my life's work as a "Sexy Mom Expert" awakening women's feminine power. I had found the secrets to being playful with my son, feeling ravishing with my man and having true heartfelt connections with my girlfriends. Now I inspire thousands of women to find that deeper, wiser, intuitive and sensual part of themselves we so often lose when a relationship ends.
So here's the bad news. If we don't get our confidence back, there's a good chance we'll gain weight, feel depressed, unappreciated and overwhelmed. We may become cranky with the kids, competitive with younger, thinner sexier women, ashamed that we are not married yet and resigned to never trust men again.
Now breathe. There's hope. Let's start telling the truth. Are you overworking, overeating or drinking too much to numb your feelings? Stop. Are you taking out your frustration on your coworkers or children? Stop. Are you buying into female competition? Stop. Are you saying cruel things to yourself like "What's wrong with me? I'll never find anyone." STOP.
First and foremost, you are a goddess!
You are worthy, valued and cherished! You are a gift to this world!
No longer see your divorce or breakup as something you failed at…see it as a learning experience. Say "thank you" for this experience because I learned to have stronger boundaries, speak my truth, trust myself, know I am worthy of being treated well and feel beautiful inside and out!
So ladies, I'm asking you to do 5 little rituals to help you get your sexy back:
1. Write a thank you letter to your ex for giving you the experience of divorce/breakup because you learned x, y and z. This is called forgiveness and without it, you can't find your sexy self again.
2. Get out of your head and into your heart by moving your body in a belly dance, NIA, dance therapy or sacred dance movement class!
3. Dress the way that makes YOU feel sexy. Trying to be sexy makes us needy, gives away our power and attracts men that use us.
4. Spend quality time with quality girlfriends. Be there for each other, instead of complaining, focus on the good. Tell each other why they are all wonderful women!
5. Write a love letter to yourself from your higher self. And then read it to yourself. It's guaranteed you'll cry, yet these will be the tears that will wash clear any blockages that have held back your capacity to fully give and receive love.
Do even a few of these rituals and watch how you effortlessly attract the right man for you.
Deliciously yours,