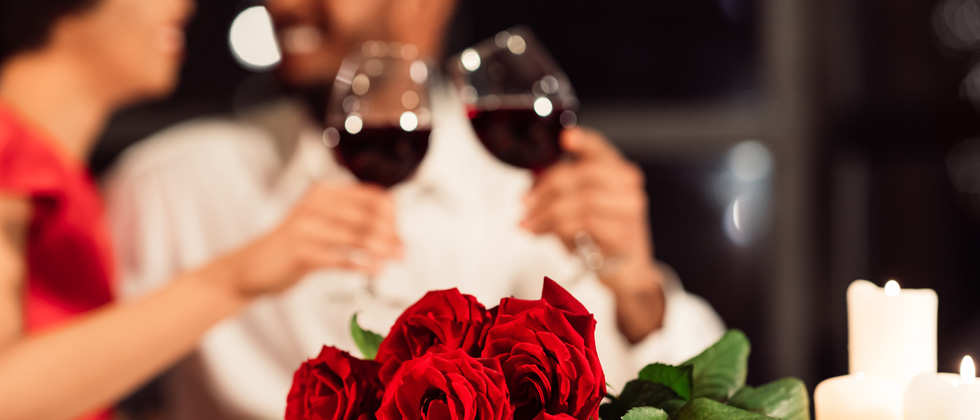 Dare to Date on Valentine's Day
There's no rule that says Valentine's Day is for established couples only. Author Sara Eckel returns with a new blog and a different perspective about the holiday – and dares us all to think a little differently!
When Janice McDaniel and Pete O'Keefe went on a first date on Valentine's Day, they opted for a low-key bar in the hopes that they could avoid the hearts-and-roses hoopla. As it happened, the venue was hosting a Valentine's Day karaoke night. "We were serenaded by love songs throughout the date. It was extremely weird," said Janice (now) McDaniel O'Keefe.
Janice and Pete can laugh about the date now—they're married. But at the time, it wasn't funny, just uncomfortable.
Logistically, a Valentine's first date makes sense—if you're both single, you probably don't have conflicts that day. On the other hand, the night can feel pretty loaded. "There's so much pressure to make that day the most special day of the year for people who are in love, so if you're not in love (yet) it's highly probable that nearly everyone else in the restaurant around you will be celebrating their own love. It can just get awkward," says Jessica Bufkin, editor of SingleRoots.com.
Then again, a date can be the perfect cure for the Valentine's blues. Elizabeth Fournier didn't meet her dream man after she accepted a Valentine's Day blind date. But she had a fun sushi dinner and spent the day in happy anticipation of it—styling her hair, painting her nails. "I was kind of surprised at how excited I was throughout the day as people asked about my plans for the evening," she said.
For those who dare to date on Valentine's Day, some suggestions:
1) Keep The Pressure Off
Tiffany Cianci and her husband Ryan went on their first date on Feb. 12 and their second on the 14th. Since they both felt weird about the timing, they kept it simple with a late lunch and movie. "We were done around 6 pm and had a great time. Now, ten years later, each year we still go out for a nice lunch instead of a fancy dinner for Valentine's Day," she said.
Matt Becker met his wife at a New Year's Eve party. But since he lived in Massachusetts and she in Florida, at first they only communicated online. When they decided to meet, Valentine's weekend happened to be the one that worked best with their schedules.
"We definitely talked about whether it was weird before making the final plans and we basically just decided not to make a big deal out of it. I did get her a card, but that was it. Other than that we really just focused on having a fun visit. It has made all the subsequent Valentine's Days a little more special though, since we actually have something real to commemorate," said Matt.
2) Enjoy The Show
Downplaying Valentine's Day is a good idea, but you don't have to pretend it isn't happening. David Bakke was relieved when his Valentine's Day first date insisted that he not give her chocolates or flowers. But they couldn't entirely ignore the day, especially after they ended up going to a pricey restaurant that played up the Valentine's theme.
So the pair bonded over it—checking out the other couples to see if anyone else was on a first date (none seemed to be) and swapping hilarious Valentine's horror stories. "We really hit it off and ended up staying out quite late," said David. The two ended up dating for about a year. "It made for good conversation with our families and friends—that we first met on Valentine's Day," he said.
Even if cupid's arrow doesn't strike on Feb. 14, you can still have a good time.
When Jacob Markiewicz asked a woman if she was free on Thursday, he had completely forgotten about the holiday. The two had a fun evening of dinner and bowling. "Nothing coalesced romantically, but I still look to that date very fondly," he said. "It was much better than sitting alone at home and wallowing in self-pity."
Sara Eckel is the author of It's Not You: 27 (Wrong) Reasons You're Single. You can get a free bonus chapter of her book at saraeckel.com. You can also find her on Twitter at @saraeckel or on Facebook.