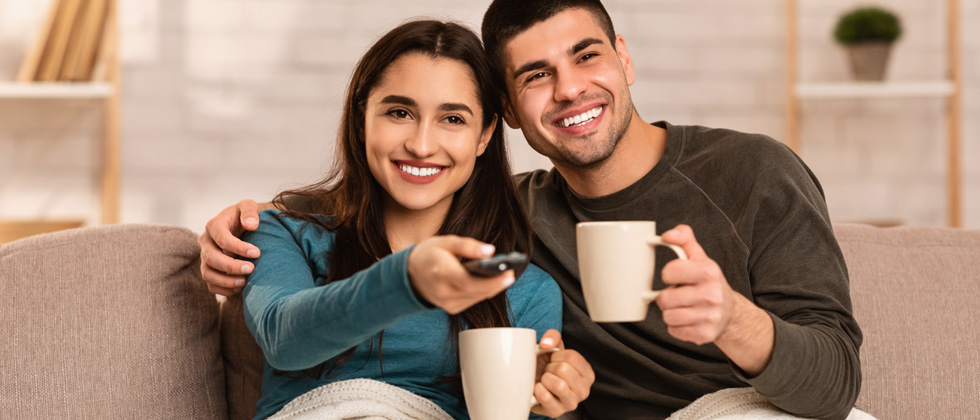 20 Chick Flicks Guys Love
He may groan when you hit play on one of these 20 "chick flicks", but deep down inside he loves these movies just as much as you do.
Some of these are movies guys secretly love, and some are movies that will capture your guy's imagination once he's actually sitting down and watching them with you. Though stereotyped as "chick flicks," these are simply movies with strong female leads that get as many speaking lines as the guys—and they also probably have a thing or three to say about love and relationships.
Can men and women remain friends without sex getting in the way? Nora Ephron's episodic screenplay introduces womanizing, neurotic Harry (Billy Crystal) and ambitious, equally neurotic Sally (Meg Ryan) as chums who resist sexual attraction to maintain their friendship — a relationship always teetering on the brink of love. As the two draw closer, the question resurfaces: Can they stay just pals? Carrie Fisher and Bruno Kirby co-star.
2. Say Anything
Lloyd (John Cusack), an eternal optimist, seeks to capture the heart of Diane (Ione Skye), an unattainable high school beauty and straight-A student. She surprises just about everyone — including herself — when she returns the sentiment and begins to fall for Lloyd. But Diane's overly possessive Dad doesn't approve, and it's going to take more than just the power of love to conquer all.
3. Mean Girls
After growing up abroad, teenager Cady Heron (Lindsay Lohan) moves to Chicago, where she quickly makes inroads into the most popular clique in high school — that is, until the ex-boyfriend of one of the clique members falls in love with Cady … then there's hell to pay. Tina Fey, Lizzy Caplan, Rachel McAdams, Lacey Chabert and Daniel Franzese co-star in this sharp comedy that dives into the often vicious world of adolescent social mores.
Waitress Louise Sawyer (Susan Sarandon) and naive housewife Thelma Dickinson (Geena Davis) take off for a simple weekend free of men … and become outlaws blazing a cathartic trail across America. This Special Edition video includes audio commentary with director Ridley Scott, writer Callie Khouri and the two stars; four documentaries; deleted scenes; an alternate ending with director's commentary — and much more!
5. Talk to Her
Pedro Almodóvar's Oscar-winning drama explores the bond forged between two men under tragic circumstances. When a bullfighting accident sends his girlfriend, Lydia (Rosario Flores), into a coma, Marco (Darío Grandinetti) visits her in the private clinic where Benigno (Javier Cámara) works as a nurse. Shy and a bit strange, Benigno tirelessly tends to Alicia (Leonor Watling), a comatose ballet dancer and object of his obsession.
6. Clueless
Director Amy Heckerling's fresh adaptation of Jane Austen's novel Emma transforms Regency England into Beverly Hills, Calif. Bored with high school boys, best friends Cher (Alicia Silverstone) and Dionne (Stacey Dash) instead set their sights on college men. But the meddlesome Cher gets more than she bargained for when she gives a fashion-challenged student (Brittany Murphy) a makeover in hopes that her new friend will find love and happiness.
Andie (Molly Ringwald) is a good student from a poor family who develops a crush on rich preppie Blane (Andrew McCarthy). Despite her best friend Duckie's (Jon Cryer) warnings, Andie accepts Blane's invitation to the prom … but will Blane have the guts to stand up to his haughty friends? This classic 1980s teen film from the master of the genre, writer-producer John Hughes, features some great pop tunes from the era.
8. Sprung
Four urban friends — Montel (Rusty Cundieff, who also directed and cowrote the script), Clyde (Joe Torry), Adina (Paula Jai Parker) and Brandy (Tisha Campbell) — meet at a party where, to get Adina in the sack, Clyde tricks her into believing he's wealthy. Adina explodes when she learns the truth, and the two become bitter enemies. In the meantime, Brandy and Montel fall head over heels, while Clyde and Adina plot to break up the happy couple.
In this irreverent romantic comedy from first-time director Ben Stiller, a small circle of friends (Winona Ryder, Ethan Hawke, Janeane Garofalo and Steve Zahn) suffering from post-collegiate blues must confront the hard truth about life, love and the pursuit of gainful employment. As they struggle to map out survival guides for the future, the Gen-X quartet soon begins to realize that reality isn't all it's cracked up to be.
In this adaptation of Fanny Flagg's novel, flashbacks reveal the remarkable and mysterious story of soul mates Idgie (Mary Stuart Masterson) and Ruth Jamison (Mary-Louise Parker), whose antics cause an uproar in their rural Southern town during the 1920s. Feisty Ninny Threadgoode (Jessica Tandy) tells the tale to a repressed Alabama housewife (Kathy Bates), who becomes obsessed with Idgie and Ruth, and ultimately finds inspiration in their story.
11. Sixteen Candles
Samantha Baker's (Molly Ringwald) 16th birthday should be perfect and memorable, but her whole family seems preoccupied with her sister's impending wedding and completely forgets Samantha's big day. To add insult to injury, the school geek (Anthony Michael Hall) won't stop hitting on her, and she's convinced the boy of her dreams (Michael Schoeffling) doesn't know she exists. A 1980s teen-angst classic from the master of the genre, John Hughes.
12. Four Weddings and a Funeral
Charles (Hugh Grant) and Carrie (Andie MacDowell) seem destined for each other, but destiny has other plans in this quick-witted comedic look at fate, fortune and formal dress. Things get started when the dapper Brit and the charming American meet at a wedding, and confirmed bachelor Charles begins to think that commitment might not be such a bad thing…
A frazzled widow tells her psychiatrist the unbelievable circumstances that made her a multimillionaire in this star-studded comedy. In a series of flashbacks, Louisa (Shirley MacLaine) recalls her four very different husbands (Dick Van Dyke, Paul Newman, Robert Mitchum and Gene Kelly) — all of whom she married for companionship, and all of whom died rich, but prematurely, from ironically bizarre circumstances. Dean Martin also stars.
14. The Notebook
Based on a Nicholas Sparks novel, this drama chronicles an enduring love that withstands both war and disease. It begins in a nursing home, where a man (James Garner) arrives every day armed with a notebook from which he reads stories about a couple, Noah and Allie (played by Ryan Gosling and Rachel McAdams), to an unresponsive woman (Gena Rowlands). Who are the characters in the book, and why does the stranger insist on reading about them aloud?
15. Heaven
Pull up a cloud and take a ride through Heaven. Created and directed by the multitalented Diane Keaton (Annie Hall, Baby Boom), this film takes a wonderfully lighthearted look at the Great Beyond and people's beliefs concerning the possibility of an afterlife. Keaton intersperses outrageous interviews with extraordinary film footage from European and American film classics such as Metropolis, Green Pastures and Stairway to Heaven.
In this Blake Edwards-directed adaptation of Truman Capote's novel, fortune hunter Holly Golightly (Audrey Hepburn) finds herself captivated by aspiring writer Paul Varjak (George Peppard), who's moved into her building on a wealthy woman's (Patricia Neal) dime. As romance blooms between Paul and Holly, Doc Golightly (Buddy Ebsen) shows up on the scene, revealing Holly's past. The film received Oscars for best song ("Moon River") and best score.
17. Mi Vida Loca
The mean streets of Echo Park are the setting for this disturbing look at how life in a gang only leads to self-destruction. Two childhood friends get caught up in their neighborhood gang scene and are assigned street names: Sad Girl (Angel Aviles) and Mousie (Seidy Lopez). Unfortunately, the girls' bond is destroyed when both of them mother children by the same boy, Ernesto (Jacob Vargas), who begins to sell drugs to keep food on both tables.
In this Oscar-winning adaptation of Michael Ondaatje's novel, a horribly burned man (Ralph Fiennes) recovers from a plane crash at the close of World War II, with a lone nurse (Juliette Binoche) tending him. Via flashback, the English patient chronicles his relationship with a married British expatriate (Kristin Scott Thomas) in Cairo. Meanwhile, a driven man (Willem Dafoe) forges a connection between the tale and the teller.
19. Beloved
TV icon Oprah Winfrey stars as a former slave who suffers mightily to protect her family in this mystical adaptation of Toni Morrison's Pulitzer Prize-winning book about slavery's lasting effects on a black family in 1873 Ohio. Jonathan Demme directed this moving drama, which costars Danny Glover, Beah Richards and Jason Robards. The film, produced by Winfrey, put young Thandie Newton on the map portraying the mysterious title character.
20. Atonement
In this drama based on the critically acclaimed novel by Ian McEwan, a childhood lie irrevocably changes the lives of several people forever. When 13-year-old Briony Tallis (Saoirse Ronan) misinterprets a moment of flirtation between her older sister Cecilia (Keira Knightley) and a servant's son, Robbie Turner (James McAvoy), her confusion causes her to finger Robbie as the perpetrator of a crime. Brenda Blethyn and Vanessa Redgrave co-star in this Oscar nominee for Best Picture.